The amazing thing about the Internet is that you never know where your readers will be coming from.
I have learned of literally hundreds of cities across the US from all questions readers send in.

This time I was honored to have been of assistance to J, who while hailing from Arkansas City was serving
his country abroad and wanted to surprise his wife with a ring upon his return states side. With a little
help from the guys over at James Allen I am proud to have helped make this happen.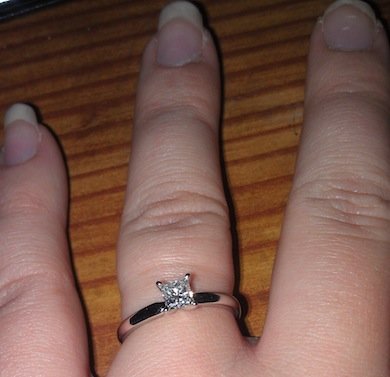 Question:
Randy,

Hello, My 5 year anniversary is on September 2nd and I will not be there for the
special day. I will be home in November for mid tour leave. I am
writing because I never bought my wife a proper diamond engagement
ring. I bought a cheaper solitaire sapphire. I want to surprise her
with a beautiful diamond solitaire but I'm on a budget constraint. I
really don't want to spend $1500 but that would be my absolute limit. I
don't want to get scammed and I want the most bang for my buck. Any
suggestions?
J,
Answer:
Thanks for writing in. I will do my best to make sure your wife is really surprised and gets a beautiful diamond.

Just a couple questions for you-
1) Do you already have a setting for the diamond or does your budget include both the diamond and setting.
2) Where do you live- I almost always recommend buying online but I do have some contacts at local retailers and may be able to get you a good deal locally.

Thanks again and stay safe,

Randy

Response:
Randy,

Thanks for the very prompt reply. 

In answer to your first question, no I do not have a setting as of
yet, I was browsing on James Allen while I was reading your articles
on the 4 C's and found that there are so many types of settings and
diamonds that I was just a little over whelmed.

As for your second question, I am from Arkansas City, Kansas.
The closest major cities are Wichita, Kansas and Ponca City, Oklahoma.

I realize after reading your articles that finding a diamond in my
budget will be difficult.  I appreciate your help and I eagerly await
your reply.

J,
Answer:
I looked around and made a few calls. I think your best bet would be this diamond:
https://www.jamesallen.com/loose-diamonds/princess-cut/0.53-carat-i-color-vs2-clarity-sku-2571102

This is a nice Princess Cut at just over 0.5 carat. I went a little low on color but kept the cut at a good cut. (read my pages on color and cut to see why). There are 1 or 2 other options but they were about $100 more – if you want me to send those over to compare just let me know.

its listed at $990. Add to this a solitaire setting for $470 and you get to $1460. When you check out use the coupon code RING10 and this will save you 10% ($47) off your setting so your grand total should come in at $1413 – under your $1500 budget!

I am still waiting for one or 2 vendors to get back to me so don't pull the trigger just yet.

Randy
Response:

Randy,

An Excellent looking diamond, I have already read your articles and I
am glad you picked cut over color.  I was doing the same when I was
looking. I am eager to see if the other to vendor's have anything to
offer. Thank you so much for your input and help.

J
Response:
Randy,
    I have decided to purchase a diamond from James Allen, I wrote
them an E-mail asking for there shipping policy to APO AE since I am
in Afghanistan but have not as of yet recieved a reply.  I was wonder
if you have a connection with them where yo ucould find out for me.  I
want to give her the ring in the airport when I get home for mid tour
leave.  So I want it shipped here.  Any help or information would be
greatly appreciated.

J
Answer:
J,

I can try and help you out with this. Can you please send to me a link to the diamond and setting you want
and also by what date it would need to be by you.

Thanks and congratulations!

Randy
Response:
Randy,

I am looking at getting 11001P for a setting and 1402458 for the diamond.
J
Answer:
J,

I sent it off to a contact I have there and they are looking into it. I hope to have an answer for your shortly.

Randy

Answer:
J,

My contact over at James Allen said someone will be getting in touch with you. They said they can in fact ship to your base but it takes 2-4 weeks. I am not sure if that is in time for you or not. In any case they said you should email josh@jamesallen.com and ask him any questions.

Good Luck,

Randy
Response:
Randy,
Thanks again for all your help!

J

You said you would like to know what my final decision was for my
selection.  I decided on this and have placed the order:

Setting
Item#: 11003W
18K White Gold 2.5mm Comfort Fit Solitaire Engagement Ring
Size: 8.00
Price:  $590.00

Diamond
Item#: 1421307
Princess 0.51 carat H color VS2 clarity diamond

Price:  $990.00

I appreciate all of your help in making this selection.  I found your
website to be a invaluable tool for making this purchase,  I didn't
know how little I really knew about diamonds until I read your page.
Thanks again,
J
Answer:
J,

Congratulations! Please send me a photo of the 2 of you (and the ring!) when you get back stateside and have given it to her. Would love to post it on the web site.

Randy