GIA is probably connected to "diamond certification" in your head! And just like people are using the words "I'm going to Uber" every time they're referring to a transportation app, it does not mean that "Uber" is the only application out there! 
The same goes for the Diamond certification industry, it is not exclusive to GIA or AGS. Yes they are the most reputable & known labs, but there are tons of certification labs out there that are less popular.
We surely know lots of these labs are probably amateurs (Hi Mr. EGL), however, some actually are decent and follow protocols and scientific methods in assessing/grading diamonds, and IGI lab (International Gemological Institute) being one of the
If you're getting your diamond from the Blue Nile, most probably, you'll not be seeing any mention of IGI, but if you're shopping at James Allen, you will notice that they are introducing more collections of IGI diamonds that you can check here (Currently, James Allen has more than 7,000 IGI certified diamonds).
While not many other online stores showcase and sell diamonds certified by IGI, we truly believe that since James Allen (being the largest online diamond store with +300,000 diamonds) is trusting IGI to list their diamonds, it's worth a review, and then a fair and thorough comparison to the reputable GIA.
One of the most essential points to consider when you're about to buy a gem is what type of certificate comes with that diamond, or to be precise: which certification lab has assessed the diamond and graded it accordingly?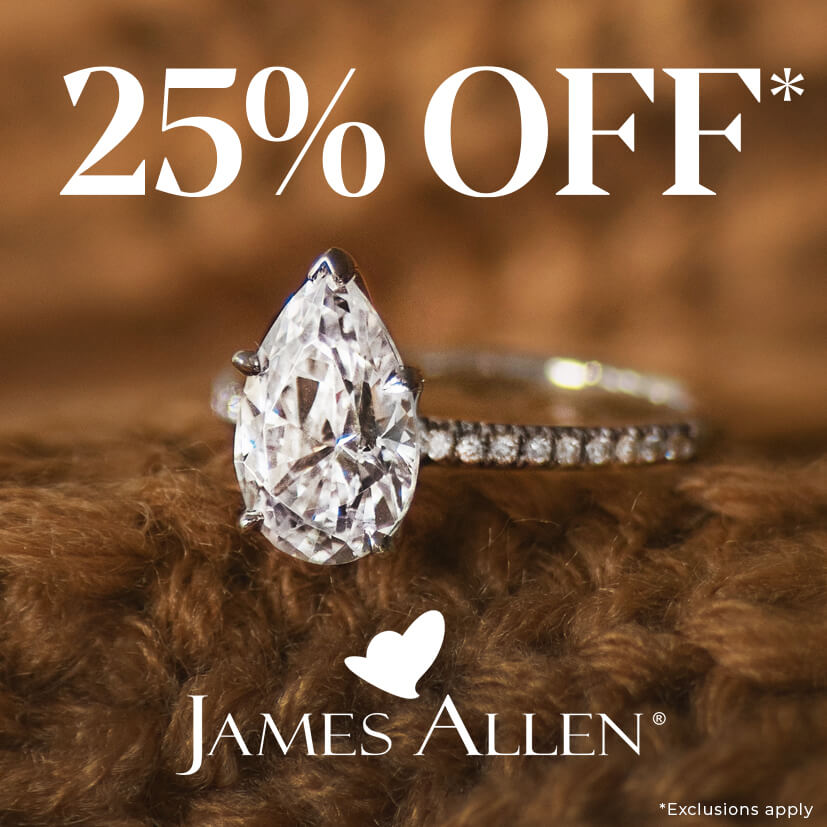 You'll notice that we are focusing a bit too much on the "diamond certificate" and advising that you do too; even more than ANY other factor, such as the Cut (being the most important factor among the 4Cs)!
Why is that?
It's simply because if a lower quality lab (Yes, like EGL) grades a diamond with a G-color, while it's an I or J for GIA, then you've purchased the wrong diamond, regardless of anything you've been recommended to get!
In this blog post, we'll be going over IGI with it being a kind of controversial lab, it's for sure has a good reputation these days, but why the giant Blue Nile (and others as well) didn't take any steps toward listing diamonds graded by IGI?
Stay tuned…

IGI Overview & Reputation
IGI (which stands for International Gemological Institute) was established back in 1975 in Antwerp (Belgium), the labs were first founded as diamonds, colored gems, and jewelry certification institute.
Antwerp is historically known as the "home of diamonds" and IGI is considered to be the oldest certification lab there. They offer grading services for almost all types of diamonds & jewelry, including natural diamonds, lab-grown, Hearts & Arrows, colored…etc.
As for IGI reputation and if their certification process is reputable, it's well-known that IGI operates on pre-set and documented standards and methodologies in the process of assessing and grading diamonds. And just like "McDonald's franchise", these standards are applied across all their offices internationally.
And although each lab is owned by a different entity, it's less likely that a diamond will be graded differently from an IGI lab to another, they all follow the same grading and certification procedures.
While this might sound obvious, many don't operate like IGI! For instance, you will probably be able to find some differences in grading levels for diamonds certified by different EGL offices, given that EGL has many offices around the globe.
IGI Offices:
The exponential growth in IGI presence is undeniable. Although they have started with one office in Antwerp, they now have multiple offices in Antwerp, New York, Hong Kong, Kolkata, Tel Aviv, Mumbai, Bangkok, Tokyo, Dubai, Toronto, Los Angeles, Surat, Chennai, Ahmedabad, New Delhi, Thrissur, Jaipur,  and Hyderabad, and has more than 650 gemologists in their offices.
IGI brands itself as the "largest international" labs, as they are located in many countries. However, this needs more explanation from their side since GIA has offices in 13 countries and almost 3,000 gemologists in their offices, so we're not quite sure what they mean by the largest here.
Update: It looks like IGI has slightly changed their website headline from the "Largest organization of its kind" to the "World's largest Independent Gemstone Grading Laboratory", which kind of elaborates on their previous headline.
IGI Schools of Gemology
The interesting thing about IGI is that it has a School of Gemology, with 14 branches in Antwerp, Mumbai, Delhi, Hyderabad, Surat, Dubai, Shanghai, Ahmedabad, Chennai, Rome, Cavalese, Ascoli Piceno, Trecastagni, and Marcianise, where they offer diamond training and certification skills.
In addition, their website mentions that they graduate thousands of jewelry professionals every year.
IGI vs GIA Comparison
Now if you wonder where IGI stands next to GIA, here we will do a quick generic comparison between both labs (as independent institutes), then we dig into some of the technical differences between IGI & GIA grading procedures.
| Lab | IGI | GIA |
| --- | --- | --- |
| Profitability * | FOR Profit | Non-profit |
| Establishment | 1975 | 1931 |
| Number of Employees | 650 | 3000 |
| Offices | 18 | 14 |
* On the profitability note:
IGI is a company (for-profit), and it was kind of a family business (owned by the Lorie family) for almost all its lifetime, until recently in late 2018, when the Chinese conglomerate Fosun (Shanghai-based company) acquired 80% of IGI.
Some resources mention that the deal was close to €100 million! Just to give you an idea about how large is this business.
On the other side, GIA is a non-profit organization, so no one is getting rich by grading diamonds, period.
Now, let's talk technical, shall we?
GIA vs IGI: Diamonds Grading Review & Comparison
Following our thorough assessment and deep comparison of diamonds graded by GIA & IGI, we've noticed a slight upshift in grading some stones' characteristics, mainly diamond clarity and color.
To clarify, a diamond that has been graded as an VVS2 by GIA might be graded as VVS1 by IGI. Likewise, a F-color diamond (by GIA) can be seen as E-grade by IGI.
But to put this in context, it's not the case always, but it happens more often that not.
We've seen in our EGL Labs review that their diamonds should not be an option for any buyer, they are common to inflate color and clarity levels with two or even 3 grades. Some would say: Okay, IGI doesn't have that issue though, its inflation is by one grade at most, and this is not "a big deal"!
Well, we wouldn't say that it's "not" a big deal, nor it is! It all comes down to the specific diamond itself and your intention behind getting it (are you willing to resell anytime for example?) Will you be insuring it for instance?
Generally speaking, getting a diamond with grades that are higher than its actual grades (even as little as one grade difference) is not recommended. The reason for that is:
You are paying an extra amount of money for a higher grade that doesn't actually exist. However, this is not the case all the time, IGI diamonds are cheaper than GIA, because "they know" that they are not as reliable as GIA, so you won't be paying more money at all times.

Reputation matters: When you want to sell the diamond, it won't be easy to convince a seller with a diamond certified by any lab other than GIA or AGS!

Even if you were able to sell it, you will also lose more money.

In general, most diamond insurance companies cover diamonds that are certified by either GIA or AGS.
It's worth mentioning that these differences were found in high clarity grades (VVS2 and above), the same goes for color.
Therefore, if you're getting an SI1 or VS2 clarity diamond, and/or color within I-G, most probably it won't be an issue, but it has to be inspected individually to make sure it's a good deal (since IGI diamonds are known to be a little cheaper than GIA).
If you found two diamonds graded the same color & clarity (one by GIA & another by IGI) for the same price, it would be wise to pick the GIA diamond as the IGI in this case might be a bit overpriced in this case.
IGI Grading & Reporting Services Review
As a specialized organization in gemstones and diamond grading, IGI offers many reports showing different characteristics of diamonds or other jewelry pieces. We'll be taking a look at some of the most popular reports provided by IGI:
1- Loose Diamonds Report:
Similar to other diamond certifications in the industry (GIA, AGS, or others), this report assesses the diamond characteristics, and assigns grades based on their standards, this report lists diamonds 4Cs, what Shape the diamond has, Polish, Symmetry (with its details like measurements, table & depth, etc.), as well as fluorescence.
Also Read: Is Diamond Fluorescence Good or Bad?
It also includes a graphic representation of the diamond itself which shows inclusions found in different locations on the diamond. Here is a sample for a diamond report by IGI: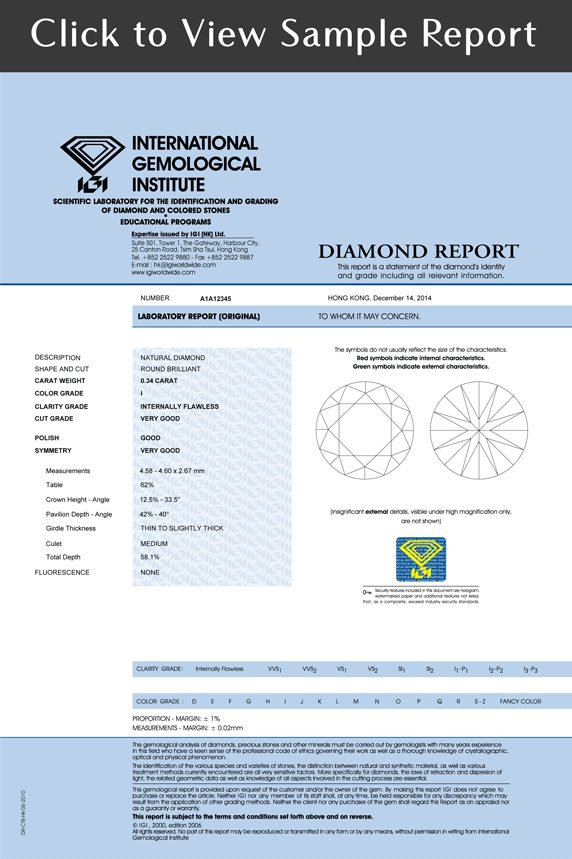 2- Hearts & Arrows Diamonds Report
This diamond type is becoming more and more popular now, especially with the big online retailers who have introduced new lines of products and branded them as unique & spectacular diamonds with unmatched cut grade.
We've seen this in James Allen's collection named True Hearts™, whereas their biggest competitor (Blue Nile) named the similar collection Astor™, and recently, the premium quality store Whiteflash penetrated the market with their A CUT ABOVE® unique collection.

Due to this unprecedented growing demand for the "Hearts & Arrows" diamonds, and since GIA doesn't include any specific details about these branded collections in their certificates, a huge opportunity presented itself for labs like IGI to issue grading reports for diamonds with Hearts & Arrows (premium cut).

IGI uses the "Hearts & Arrows" gem scope to check if ALL diamond facets are aligned to appear correctly, which means full symmetrical proportion to the diamond.
The report is almost identical to the previous report with one slight difference being that this report includes a comments section to confirm that this diamond is a "Hearts & Arrows" one, similar to the one below: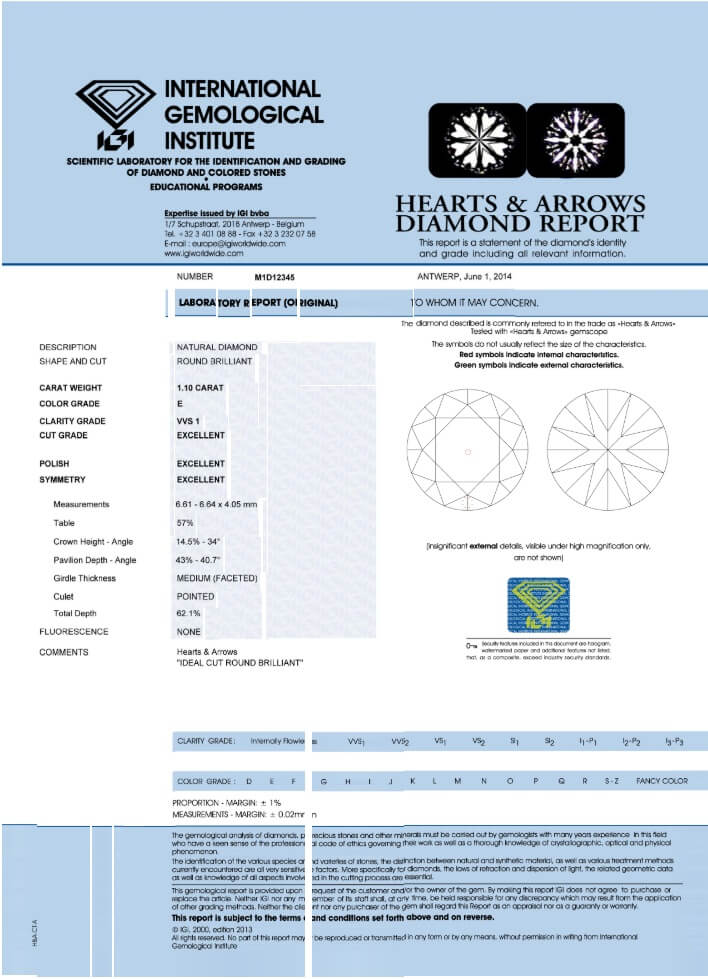 3- Colored Diamonds Report
IGI also offers a service to grade and provide a detailed assessment of colored diamonds, since colored diamonds are examined and assessed on a different basis than the colorless diamonds we're familiar with.
Why is this report important to be a separate one?
This is because a lot of "fake" colored diamonds are actually colorless with low color grades, but they have been treated to alter the diamond's color!
The Colored diamond report by IGI gives many details about the diamond color; its origin (natural or treated), grade, distribution, and a comment section, similar to this one: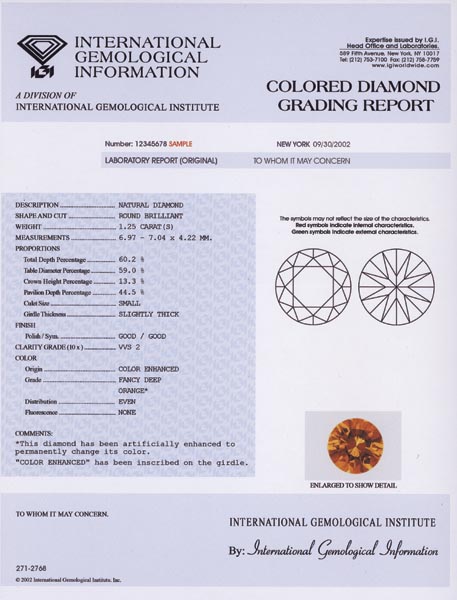 4- Synthetic / Lab-Created Diamonds Report
People are constantly looking for cheaper options for almost everything out there, and diamonds are no exception! Lab-created diamonds have been more adapted in the past few years due to financial matters mainly.
But is it easy to identify a lab-created diamond though? If it's, then why would people consider even going for it?
The truth is: It's IMPOSSIBLE to spot the difference with the naked eye. No one can detect the difference between a natural diamond vs. a synthetic one by just looking at it.
Regarding the IGI report for the lab-grown diamond, it's identical to the natural diamond report, except it has a line that clearly states that this diamond is "Laboratory Grown", and the report name of course.
We encourage you to read our article that covers All You Need to Know Before Buying a Lab Grown Diamond if you're thinking of getting one.
5- Other Reports by IGI
The above reports are the most popular reports that IGI provides, and as a matter of fact, they're also what people are looking for. However, IGI has other reports as well:
Jewelry Report

Colored Stone Report
We will not be getting into details about these but will refer you directly to their respective pages on IGI here & here.
Is IGI Diamonds Certificate Good & Reliable?
All what we saw above come down to the million dollars question: How good & reputable are IGI certification services? And is it safe to buy an IGI diamond?
We won't say that IGI is reputable as GIA or AGS, but at the same time, we neither can't say they are bad like EGL, these labs come somewhere in between.
We saw that IGI has straight-forward guidelines to grade & assess diamonds, but they might not be as strict as the big names (GIA & AGS); the "sharks" in the diamond industry.
This is due to many reasons, mainly being the inspection tools they have and the expertise of local gemologists they work with.
And in many cases, the "for-profit" companies tend to be on the seller side rather than the buyer! At the end of the day, it's their business, and being profit-driven, forces these companies to let sellers love their grading process (so that they'd send more diamonds to be graded by these labs).
This results in a bit of inconsistency in their diamond grading, as an example, GIA might grade two diamonds clarity with VS2, but in certification labs; those with fewer restrictions, they might grade one as VS2 and the other as VS1.
Also Read: Diamond Certification: How to Read a Diamond Grading Report?
Despite the fact that some of the largest online stores display and sell IGI-certified diamonds (one of them is James Allen as you can see here), we can't say for certain that IGI is a GO or a NO GO for that matter! 
Although IGI is a good-reputable certification lab and follows well-structured guidelines to assess diamonds, this depends on many other factors. We've already seen stones certified by IGI that are reasonably priced, whereas others were highly-priced as if they were a GIA-graded diamond with the same specifications.
You have to be careful in picking the right diamond If and only if the price makes sense.
Final Word on IGI-Certified Diamonds, Should You Get One?
After all that has been discussed above, and although James Allen does sell IGI-certified diamonds, we wouldn't always suggest to go with an IGI-certified diamond. For example, after it has been inspected and matched with similar diamonds from GIA or AGS, are they the same price? Or will you be getting a better deal on it?
Another important point to keep in mind is to check if the diamonds are high grade on color and clarity. In many cases, we've seen the inflation of grades in IGI happen on lower clarity (SI2 & SI1) & color (I & J) grades.
Our top recommendation on diamonds is to always get a GIA or AGS diamond (with GIA being the first go to option because it's simply the best certification lab out there). We also recommend that you shop from well-known online stores like JamesAllen, BlueNile, and if you're looking for a top-quality premium diamond, head directly to Whiteflash.
Need help on a particular diamond by IGI? Just fill the form below and we will be glad to offer free consultancy for you.
Happy diamond shopping!