You may have thought for nights & nights before making your decision, you want to propose!
Despite the tons of issues you need to work on before that day, you will find yourself stuck a little bit when you want to choose a ring size,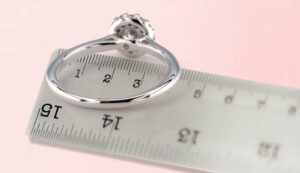 but you don't want to ask her, you just want to get it perfect without her knowing!
To help you through out your whole journey, we've 3 great articles (besides this one) that will help you while you're looking for an engagement ring, feel free to check our article on How to Select & Buy an Engagement Ring, and if you're wondering where to shop for an engagement ring, we defenitly recommend James Allen as a first choice (Read our James Allen Full Review to know more), and this article would be very useful to know why, and last but not least, we want to give you an idea regarding budgeting for your engagement ring here.
In this article, we will focus on one thing only, how to find your partner (fiancée-to-be) ring size without asking her, so that you don't feel upset if she says YES, but then the ring doesn't fit, we're here today to help you NOT to be in that situation.
Average Ring Size for Women in the US
Before we go into details, it's a good rule of thumb to know the average in this industry, so for example, most women wear ring sizes of 5, 6 & 7 (with most common being 6 & 6.5), this make it a bit easier than looking at wider ranges, so if your partner is an average-sized, you're most probably looking for something in this range.
But keep in mind, even an average-sized woman may not be wearing ring sizes in this range, women are different, even between their right & left hands, so the best way is to dig a bit deeper to see how to find & know her ring size exactly, keep reading…

You have many options to start with, depending if you live with your partner, or if you haven't moved in together yet, let's start with the easy one:
How to Find Her Ring Size Without her Knowing if You Live Together:
This might be fairly easy, check her jewelry box and look for a ring that she won't tell if it disappeared for a day, take it to a jeweler the next day and you will get it, but be careful of two things here: She catches you if she looks over her jewelry almost daily, and most importantly, if she hasn't wearing it for some time, it might be that it doesn't fit well because her size changed.
Please don't listen to the suggestion that says you can measure it yourself (using a ring sizer like one on her hand while she is sleeping), 99% of cases she will wake up and discover that, the other 1% will be that you didn't get the exact size because you couldn't move her other fingers a bit away to get the exact size!
The Soap Trick: This one would be the best and most accurate, when she puts her favorite ring on the table, get any bar of soap, you might not have one already, but you've passed all the way until this moment, prepare well for it, just get the bar, make an imprint using her ring, and you're done! That's it, take the bar to the jeweler and they can tell you exactly what size you should get, but be careful of two things here as well: Make the imprint stick well, and clean the ring right after you finish 😉
If you don't have a bar of soap, just put the ring on a paper, and using a pencil (try not to use a pen as it may leave ink on the ring) draw tracing circles on the inside & outside of the ring, make sure your circles are 100% exact.
One easy trick is that you can do is to try putting her ring in your finger, yes you read this correctly, most probably it won't pass half of it, but when it stops, mark that point, and the next time you visit a jeweler, just ask them to measure that point for a ring.
Now let's move to the other situation:
How to Find Her Ring Size if You

Don't

Live Together:
While most people are in the first case, there is still a lot of people in this situation, you don't live with her, YET! To be straight forward, this is a bit harder, and remember that this also needs to be done without her knowing anything, you can't just go and ask her ever if you don't live together!
Luckily enough, there are many ways that you can tell her ring size even if you don't live with her.
By the way, all these methods also work even if you live together, but not vice versa:
Ask a family member or a friend you can trust (in Bold, Italic, and Underlined!), you don't want to screw up the whole thing by asking the wrong person.
Pretend you're getting a ring for your mother or sister, and you want to have an idea about ring sizes in general (so you can get larger size if your partner is smaller in size that your sister for example), be careful here, this trick might be overused by now, try to be spontaneous and very honest about it, or just keep reading for alternatives.
Try to play a game, like saying that they say ring size for females is half of their shoe size plus two, and see if it works with her, pretend to be really serious, I will give you a great scenario to use:
While you're on your mobile, ask her: Is your ring size 6.5 (if her shoe size is 9)? She will defenitly ask you why rather than answering, just tell her you saw that in fun facts you're reading (mention another fact or two to pretend you're really reading related stuff, like your height is the same as distance from your most right to most left if you open your arms 180 degree), I assume after this, she will tell you if this fact is true or not.
While you're shopping for anything, get into a jewelry store and ask her for help, you want to get your mother a ring but can't decide, and you need her sense in getting a good one, while you're in the store, let her wear one that you like to see how it looks on hands.
She already knows? Ask her directly! This would be the easiest way, and don't worry, you can still surprise her in the When & How!
While this might not be your best option, but it still give you an indicator, just take note, pay more attention to her fingers and compare it to yours, or for a better result, try to compare her finger to one of your female friends, if you see a great chance of both fingers being same size, just ask this friend for her ring size 🙂
Rule of Thumb Whenever You're Guessing/Finding Her Ring Size
Don't get me wrong here, but they say "Bigger is Better", while it's controversial in its context, but it helps us here.
After doing all your homework above, and you're still didn't make your final decision, a good rule of thumb says that you should go one size bigger, so if you have a doubt between two sizes, always get the bigger one, because resizing bigger rings into smaller ones can be done in 99% of cases, while the other way around is not that easy always, because resizing down is much more convenient to a jeweler.
Also even with larger ring size, she can use it until you get it resized, ring guards are a very easy & temporary solution because it won't let the ring fall, and she can even show it to anyone without being afraid of slipping off the ring.
By reaching this point, I think you have a variety of options to find your fiancée-to-be ring size, so get it done, and go directly to a reputable online store like James Allen to buy her the perfect engagement ring!
If you're wondering why we recommend getting rings & diamonds online vs. retail stores, read our Where to Buy The Most Beautiful Diamond at The Best Price article.
Have any question of feedback, please drop us a comment or message through contact us page.