Buying diamonds online has become increasingly popular over the years, and for good reasons.
Not only does it offer an expansive selection that traditional brick-and-mortar stores often can't match, but the prices tend to be significantly lower.
However, navigating the world of online diamond shopping can be daunting, especially for first-time buyers.
You might be asking, "Is it safe to buy diamonds online?" or "What is the best place to buy diamonds online?" This guide will answer these questions and more.
Let's break this down.
Is It Safe To Buy Diamonds Online?
Yes, it is safe to buy diamonds online if certain precautions are taken.
Always use reputable retailers with secure websites and a good track record. They should offer detailed information about the diamond's characteristics, preferably certified by an independent gemological institute like the GIA or AGS.
Additionally, a good return policy, customer reviews, and secure payment options are also critical.
However, because you cannot inspect the diamond in person, there might be risks concerning the actual quality and appearance of the diamond.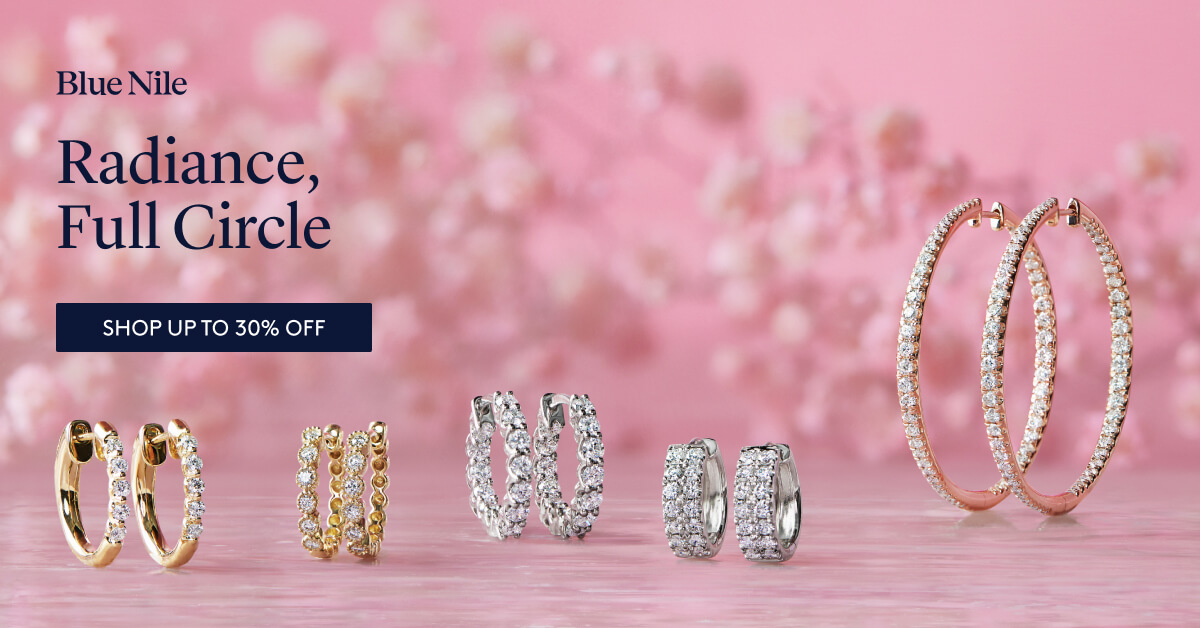 Online Shopping vs. Local Stores: A Comparison
You might wonder, what are the advantages of getting your diamond online compared to a local store and get back to whenever you need any help.
That could be true, but when considering where to buy diamonds, it's essential to understand the key differences between shopping online and in a local store:
1. Price Advantages
The financial benefits of buying a diamond online are quite compelling. Compared to physical stores that generally look to make a 30% to 50% margin on diamonds, online retailers often only have a 13%-15% margin due to their lower overheads. This significant cost difference is passed on to the customer, making online purchases more economical. Moreover, you can often avoid sales tax on online purchases by having the diamond shipped to an address in a state where the retailer does not charge sales tax.
2. Extensive Selection
The range of diamonds available online outstrips any physical store. Online retailers like James Allen and Blue Nile, use "virtual inventory", leveraging wholesalers' aggregated inventory lists, allowing them to offer a plethora of choices without owning all the diamonds listed.
3. Convenient and Pressure-Free
Buying diamonds online lets you browse at your leisure, free from the aggressive sales tactics often encountered in the diamond industry. This way, you can take the time to make an informed decision, avoiding unnecessary upsells such as higher diamond color or clarity than you originally planned for.
The convenience and stress-free environment of online shopping make it a desirable choice for many consumers.
4. Customization Options
Many online diamond retailers offer customization services. You can choose your diamond and then select the setting, metal, and design to create a unique piece of jewelry.
5. Knowledge and Education
Many online retailers offer extensive educational resources to help you understand what you're buying, equipping you with the knowledge to make an informed decision.
Tips & Advices when Shopping Online for Diamonds
Indeed, purchasing a diamond online can be a great decision. Here's what you should consider when selecting an online diamond retailer, based on our experiences with various platforms:
Return Policy
A trustworthy retailer should offer a substantial inspection period with a full refund option. For instance, James Allen provides a 30-day return policy for unworn items. If the diamond doesn't meet your expectations, you should be able to send it back easily. Avoid merchants who do not offer such customer-friendly policies.
Visual Inspection
For diamonds with a clarity grade of VS2 or lower, ensure the retailer provides actual photos of the diamond online. SI1 clarity diamonds can be excellent choices, but you should see the diamond before purchasing to understand the inclusions' placement.
For diamonds of VS1 or higher clarity, the need for a photo is less critical as these diamonds are usually eye-clean.
Certification
Prefer diamonds with a GIA certificate over those with an EGL certificate. Refer to my dedicated page on EGL vs GIA to understand why I recommend this.
Payment Methods and Shipping
Be cautious of retailers only accepting wire transfers. I suggest using credit cards for online purchases due to their fraud protection and dispute resolution features. Steer clear of any retailer that doesn't offer a credit card payment option. Additionally, verify that the retailer provides insured shipping and discreet packaging that doesn't reveal the valuable content inside.
The Best Places to Buy Diamonds Online
Here are our top picks for the best online diamond retailers:
Known for its superior visualization technology, James Allen offers a high-definition, 360-degree view of each diamond, allowing you to thoroughly inspect a diamond before buying. They also provide a large selection of competitively priced, certified diamonds. James Allen offers a 30-day return policy, and their customer service is well-regarded.

Blue Nile is a pioneer in selling diamonds online and offers an immense inventory. Their user-friendly website and detailed educational resources help guide you in making an informed choice. They provide 360-degree views of diamonds, albeit without the same level of magnification as James Allen.

If you're searching for premium cut diamonds, Whiteflash is your best bet. Their "A CUT ABOVE" diamonds are renowned for their exceptional quality. Whiteflash's website offers a comprehensive education section and a Diamond Concierge Service for personalized assistance.

Conclusion
The key to a successful online diamond purchase is conducting comprehensive research and buying from a reputable online retailer.
With their expansive selection, competitive prices, and advanced visualization technologies, online diamond retailers like James Allen, Blue Nile, and Whiteflash have made the process of buying diamonds online safe, affordable, and convenient.
Remember, the best place to buy diamonds online is the one that caters to your specific needs and preferences in terms of price, quality, and customer service. Happy diamond shopping!