Whether it's a loose diamond, an engagement or wedding ring, a gift, or some day-to-day jewelry, Blue Nile got it all!
Fan of diamonds? Check this stunning 1 Carat, VS2, G and Ideal cut diamond from their collection, in love with Halo rings? Check their +250 Halo rings, not to mention hundreds of jewelry pieces they have.
To be honest, we have been holding off on this review for a while now. As you can imagine, we receive a decent number of inquiries on this site concerning Blue Nile and many readers really want an objective review for that site.
We've been following Blue Nile for more than 10 years, even before we started this blog, and we can tell you for sure that a lot has changed since then.
Before 2017, we can't remember that we ever recommended Blue Nile to any of our readers. Can you imagine buying a watch that you don't know how it looks like? A car?
The same thing goes for diamonds! Before 2017, Blue Nile used to sell diamonds with no real images! And to pay this much for something you can't see, well, that was a problem!
We feel it's important to explain how the industry actually works first; which is why we intend to dig a little deeper and uncover how Blue Nile (one of the largest online diamond retailers) got to acquire such a huge inventory of diamonds (hundreds of thousands, actually), and how come it can offer such marvelous discounts in comparison with Brick and Mortar stores?
In this Blue Nile review, we will also be discussing if Blue Nile really inspects or owns every diamond that comes their way…
Walk into any local Mom-and-Pop jewelry store today and you will find dozens of diamond selections available. Go into a larger mall store and you are likely to find a few hundred.
However, if you hit an online diamond site like Blue Nile or James Allen, you will definitely be searching through over 300,000 diamonds on each!
How on earth they get all this inventory?
1) Blue Nile Business Model
As with all businesses, they start with an idea, which actually satisfies a certain need in the market. 
Ever heard of the billionaire Mark Vadon? This guy spotted a need, and with a brilliant idea, he revolutionized the whole diamond industry by starting Blue Nile in 1999, how?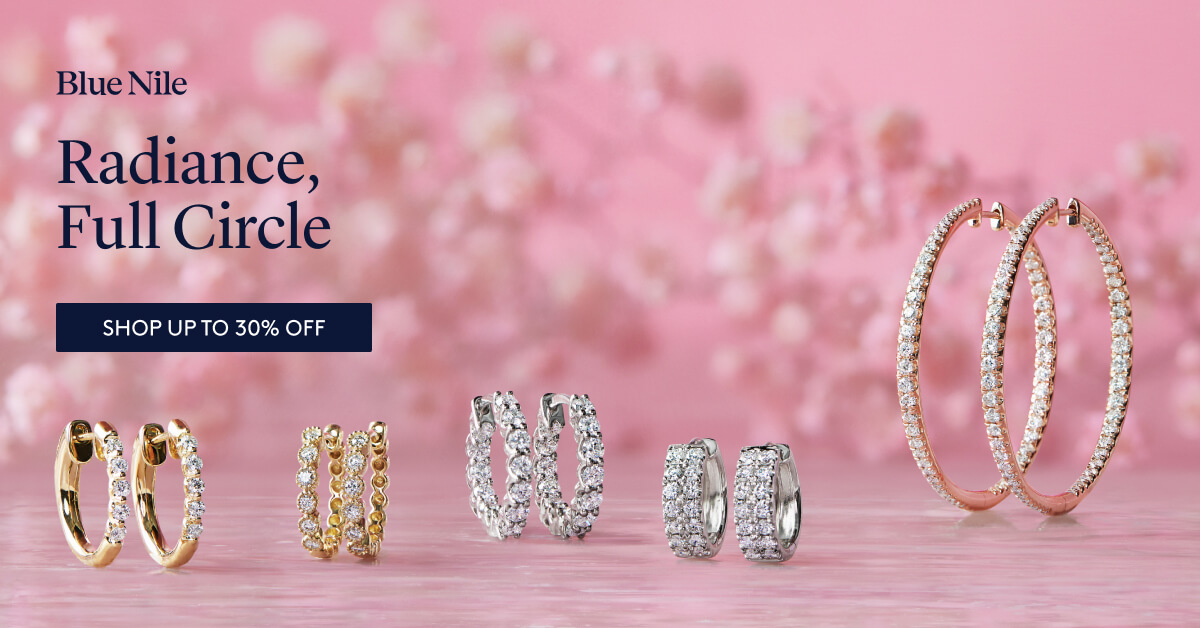 The need for a larger collection of diamonds inspired Mark to come up with a site that has NO physical inventory. The site however has the largest virtual inventory ever.
Blue Nile started with contacting large diamond wholesalers, offering to list all their diamonds on Blue Nile. And with a great online customer experience, they managed to convince their customers that they hold all this inventory, and can ship any diamond right away. (You can imagine it as the Amazon of diamonds)!
Thanks to this genius business model, Blue Nile was able to have its own "Virtual Inventory"; which can hold way more than any brick and mortar physical inventory can hold.
Besides, having a larger inventory, allowed Blue Nile to go down further less than the competition's prices since they don't actually have any inventory costs (holding and carrying costs) in their store. Also means no insurance, no memo costs, no certificates cost, etc.
Blue Nile then appeared like it had the largest inventory for diamonds when it actually didn't have 10% of what they presented on their website.
Brilliant, isn't it?
What Does This Mean to You, The Diamond Buyer?
Yes, probably from what you read above, you're starting to feel like this business model only serves the business itself and is kinda harmful to the customer, however, being the objective professionals we are, we wanted you to have all the facts before you make up your mind.
We feel that it's vital that each and every Blue Nile diamond buyer should know these facts in advance:
1) In most cases, Blue Nile never actually sees the diamonds they are selling. They are simply the front end of a massive database of inventory from around the world.
2) When you buy from Blue Nile, the diamond you are buying is being drop-shipped direct from the vendor who listed it on Blue Nile's website, this image will give an idea of how this "dropshipping" model works: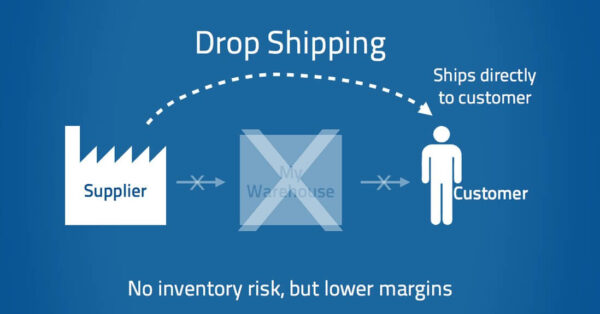 So in this image, Blue Nile comes in between "Virtually",  you get your diamond directly from the supplier, and yes you guessed it, that's why Blue Nile may have some cheaper prices; because they almost have no actual physical inventory.
3) When you request a diamond to be evaluated by a Blue Nile gemologist, Blue Nile in turn forwards your request to the vendor who listed the diamond. For example: for an SI2 diamond you may ask to confirm that a certain diamond is eye-clean. Blue Nile will simply ask the vendor selling the diamond if it is in fact eye-clean. 
2) Blue Nile Review: Prices, Are their Diamonds Really that CHEAP?
It's very common over the web to see blogs mentioning that Blue Nile is the cheapest place to get your diamond from, and while this is true in some cases, it's not always.
In 1999, Blue Nile had a radical idea, they cracked up the whole diamond industry, and for a while dominated the online diamond buying space, and they were providing prices that are not comparable – but this needs to be taken with a grain of salt these days.
Blue Nile prices are really cheap when you benchmark them against the market, so yes they are cheaper when compared to Tiffany & Co, Ritani, Leibish & Co.
But with the unprecedented competition today, you might be able to find better prices at their greatest competitor: James Allen.
In other cases, and depending on diamond quality and what you're looking for, you may also find that A CUT ABOVE ® by Whiteflash might be cheaper (and better quality) than Astor ™ by Blue Nile for example.

So yes, Blue Nile prices are very cheap according to the market, but it's worth to mention that you should not ONLY focus on price, sometimes a better image of the diamond is worth thousands of dollars if an inclusion wasn't clear for you.
On that note, we gotta give it to James Allen, they didn't just stop at a 360° real image preview of each item available on their site, they went the extra mile and introduced the "SuperZoom" feature with 40x zooming technology for EVERY diamond.

And although Blue Nile introduced the 360° Diamond View for part of their diamonds (usually 20-50% of inventory), they are still way behind James Allen, look at these 2 images for example, you can clearly tell how James Allen shows you the deep details of the diamond, while Blue Nile doesn't provide such magnification & clarity: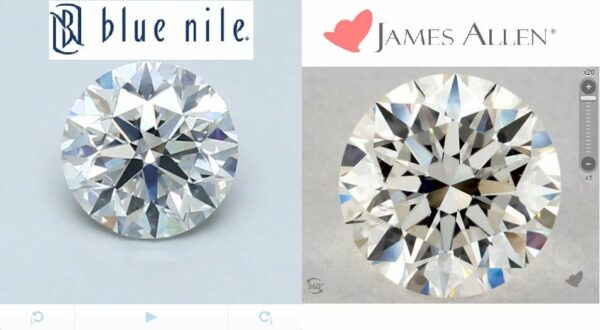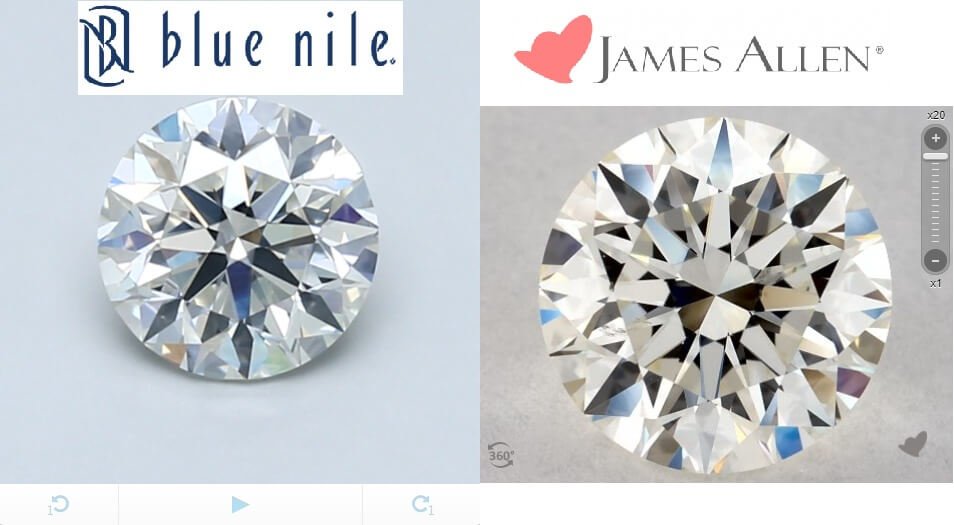 Here are 2 'almost' identical diamonds, 1 carat, VS2 clarity, G color, and ideal cut (with excellent symmetry & polish), here is an example for such diamond on Blue Nile, and here is another one from James Allen.
If they were at the same price, which one you will feel more comfortable getting it?
3) Who is Blue Nile Good For?
While many people prefer the James Allen shopping experience, Blue Nile still owns a huge chunk of the diamond industry, due to its reputation as well as its versatile collections; keep in mind that we're talking about one of the very first players in this field, that was able to build a huge reputation among millions.
This encourages a lot of people to shop at Blue Nile for some low-budget shopping, since their diamonds varies a lot as we mentioned previously, it's very common to find cheap diamonds from different sellers.
There is a whole new world inside Blue Nile! One that gives you the choice to buy your diamond loose, choose your setting, and build your diamond from scratch.
The store also lets you design your own gift; you get to build earrings & necklaces and choose your gift based on the occasion. You can shop for your engagement ring, wedding ring (for both men and women), as well as fancy designer rings. 
Many shoppers also look for things other than diamonds, maybe gemstones, fine jewelry, or pearls.
Blue Nile might be a good place to search for this kind of stuff. They have a good collection with different prices based on your budget (we will see below what types of diamonds/gemstones they sell).
One great thing about Blue Nile is that they offer diamonds & engagement rings based on who designed it, so they have a section for some great names in the Diamonds Designing Industry, and it's a great feature that some people might find useful.
4) Blue Nile Ring Customizer
Blue Nile allows their customers to pick from hundreds of ring settings, for ANY budget, starting for around $200 to insane $15k rings like this one, so whatever budget you have in mind, they have tens of options for it.
A cool option they have is that once you pick a specific ring from their collection and go to find a diamond, they will filter you the best diamonds that are compatible with your ring, a feature you can use or completely ignore as you see here: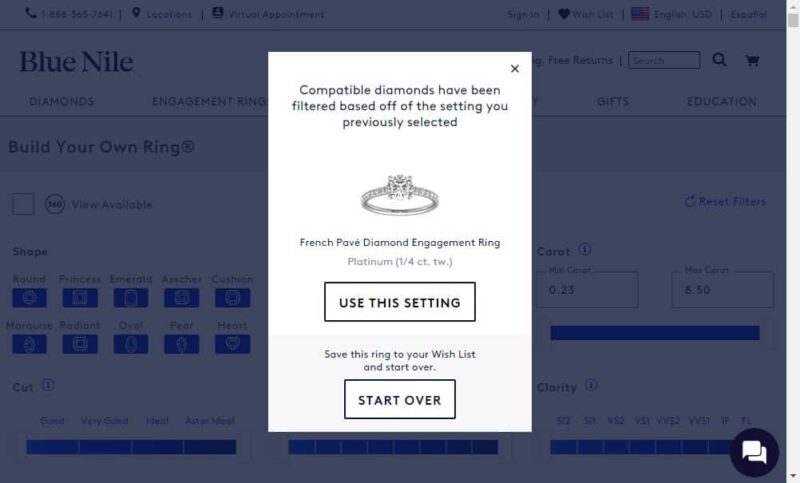 The ring selection interface (and process in general) is very smooth, you will find your best options and navigate through them easily.
5) Blue Nile Collection & Inventory Size
As a matter of fact, Blue Nile does offer more than diamonds & rings. Being one of the largest online diamond retailers, they have plenty of products to sell on their website:
Colorless & Colored Diamonds
Earrings
Pendants
Astor ™ Collection (detailed below)
Rings: Engagement, Wedding, Desinger, Couples
Necklaces
Bracelets
Different kinds of Jewelery, like Birthstone & Designer
Gemstone
Lab-created jewelry (not as loose diamonds), this was introduced recently and will be covered in details shortly
The good thing about Blue Nile is that they have a really wide variety in any collection, it's not only that they have different products, but you can also find multiple options for each product they're offering.
Inventory:
It's worth to highlight how 'gigantic' their inventory is, even if you compare it to any other store you're aware of.
As of writing this (Oct. 2021), Blue Nile holds the following inventory on their store:
Loose Diamonds: 413k
Colored Diamonds: 6k
Rings (engagement & diamond): ~ 2k styles
Jewelry: 3k
Can you imagine how insane these numbers are? Have you ever walked to a local store and they offered you 100 ring style to pick from? Blue Nile offers 2000!
Even when you're search among very high grades in terms of color for example, like a D color grade or E, you will find collections that will never be available at your local jewelry store, not even 10% of it.
As for loose diamonds, the only vendor which can compete with Blue Nile is James Allen, no one else at the moment (and none is even close!)
The thing about Blue Nile inventory (and actually for any other store with large inventory) is that you can find new diamonds every single day.
While new daily arrivals might not be in your search scope all the times, but if you didn't find your diamond in their current inventory and you still have enough time before getting the diamond, it's sometimes worth it to wait and see new arrivals.
6) Blue Nile Website Navigation Experience
While we're in love with James Allen technology & website designs, we have to admit that Blue Nile offers a great website experience as well.
Starting from homepage, you can easily pick your next step in 1 step, whether you're looking for a diamond, a ring, a jewelry, everything is well structured and easily-accessible from the top menu.
To focus a little on diamonds search (since we bet it's the most visited page on their site), you will be able to filter diamonds by all 4Cs, price, shape (please don't confuse shape with cut), polish, symmetry, table & depth, etc.., literally you can filter based on anything so you get to your selection easily.
There "was" one great advantage for James Allen over Blue Nile on the search page, James Allen offers 360 images for all diamonds while you are in search page! Where Blue Nile "used" to list all diamonds like a phone directory.
Gladly, this is not the case any more!
It seems this is very new (Oct. 2021) as it's the first time we witness this on Blue Nile, now you can see actual images for diamonds before openning the diamond page itself: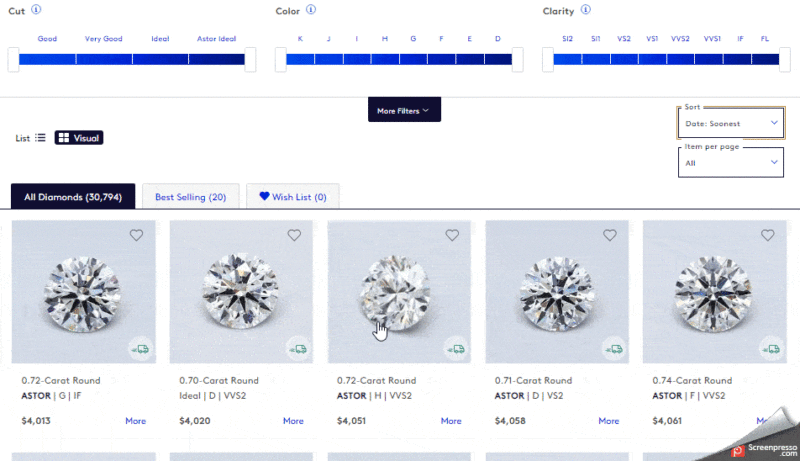 Actually seeing this live is amazing! This heats up the game between BN & JA, and the ultimate winner here is YOU! The customer.
7) Blue Nile Imaging Technology
We've mentioned this above, before 2017 (and for almost 20 years), Blue Nile was selling diamonds without any images for them, and it was working great for them to an extent!
With many players entering the industry and revolutionizing technology used in diamond shopping, it was a MUST for Blue Nile to start offering real images for their diamonds, so that customers can have a better "trust" of what they are getting.
While their technology isn't advanced like James Allen or Whiteflash, but it's at least a 360 image for the diamond you want, and it will give enough information (in most cases) about how the diamond looks like.
To have a better idea of their imaging technology, here are 3 images from James Allen, Blue Nile, and Whiteflash:
Links & in order (from left to right): James Allen diamond, middle is Blue Nile, lastly Whiteflash.
The only concerning thing here is that Blue Nile doesn't have images for all their inventory, as of writing this, Blue Nile has 413k diamonds, of which 118k ONLY have 360-degree images (less than 30% of inventory).
We're 100% sure that the only thing preventing them from offering images for all their inventory is the insane number of diamonds, hopefully they will do better on this front soon.
8) Blue Nile Astor ™ (Formerly Signature) Collection
This comes up a lot, what is Astor By Blue Nile?
As we've talked a lot about the most important characteristic of a diamond from the known 4Cs and got to know that cut is the key characteristic for any diamond, Blue Nile has introduced a carefully selected collection of diamonds with extra brilliance & shining, they called it Astor.
In our article where we Reviewed James Allen True Hearts Diamonds Worthiness , we've discussed in detail all about Hearts & Arrows Diamonds and how they are different from other cuts, Blue Nile confirms that Astor diamonds have an Excellent Cut, but they don't mention any Hearts & Arrows in Astor collection.
It's also important to mention that neither True Hearts nor Astor has specific details in their certificate (mainly GIA)!
Blue Nile says "Astor by Blue Nile™ diamonds are independently assessed by two industry experts (GIA® & GemEx®),  assuring their quality and exceptional brilliance." they try to convince you that this grade (Astor) is particularly identified and named by these labs while it's not 100% true!
GemEx DOES identify Astor as you can see in the certificate below, but remember that GemEx is NOT an industry-standard lab, and they are not highly reputable as GIA or AGS.
For GIA & Astor, they just confirm an excellent cut for Astor diamonds and that's it, so don't look for the term Astor (or even True Hearts) in any GIA certificate.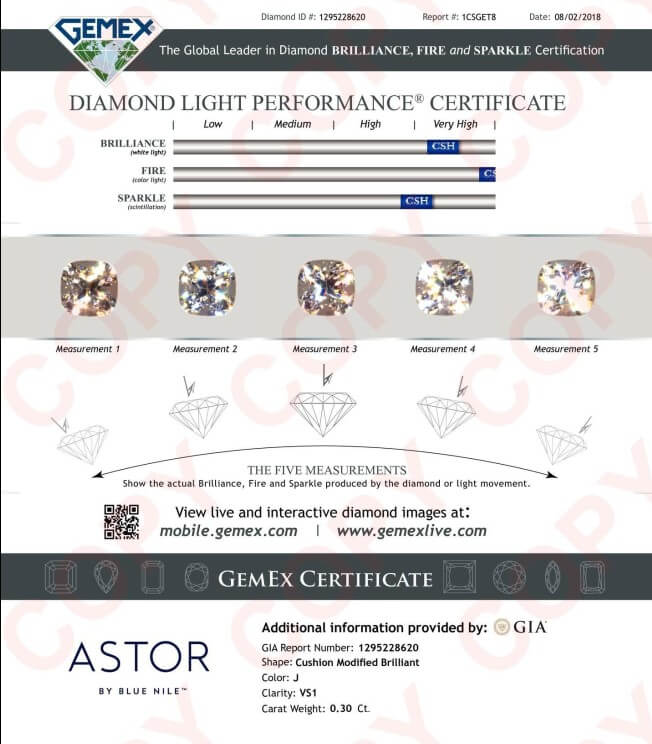 So what Blue Nile has done (and in a smart way actually) is they grouped GIA & GemEx in one context to appear that they both do confirm Astor in their certificate, good job.
Last thing to know about Astor diamonds is that they come in 3 different shapes: Round, Cushion, and Princess only.
Also, read: Diamond Cut vs. Diamond Shape & The Most Popular Shapes
Update: Since we've received a lot of inquiries from our readers about this collection, we've reviewed Astor By Blue Nile in a dedicated article.
9) Blue Nile Packaging, Payments & Financing
Packaging
Final touches are as important as the technical parts! And While it might vary from one merchant to another, we took a quick look at the packaging for both and found that James Allen absolutely takes more care of this.
Besides the nice packaging, the diamond also comes with a large box that can be used as an elegant jewelry box. They also provide a cleaning cloth to keep your diamond mesmerizing at all times!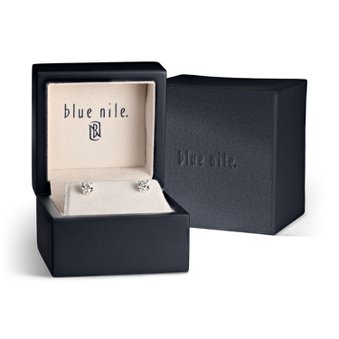 In the past, Blue Nile packaging was awful, you can't tell if it's a diamond inside or it's a 10-year-old student sharpener, but frankly speaking, Blue Nile packaging has gotten much better over time, and this is how Blue Nile packaging looks like now.
Payment Methods
For non-US citizens and due to currency rates, it might be easier to pay through methods other than a credit card, hence, Blue Nile offers different payment options:
1- Bank Wire / International Money Transfer (IMT) / Telegraphic Transfer (TT): You get 1.5% off when you pay through this payment option.
2- Credit Card: They support Visa, MasterCard, China UnionPay wherever they are applicable, and some other cards with some restrictions (AMEX, Discover, Diners Club, JCB), refer here for the terms.
3- PayPal: It can be used for purchases up to $15000 only, and is limited to Orders that don't use a Gift Certificate as an additional form of payment.
4- For orders shipping to China, AliPay is also a payment option.
Financing Options
While we always recommend that you shouldn't start your life together with a huge debt hanging over your heads, but everyone knows his situation better.
And for that, Blue Nile payment/financing options might come in handy. Blue Nile offers a credit card to finance your ring and it comes in two options:
1- No Interest If Paid In Full Within 6, 12, or 18 Months:
For the 18 months option, your diamond should be at least $2000 and ONLY FOR Astor™ Diamonds, the 12 months plan works fine with any diamond above $1500.
2- Equal payments over up to 60 months with 9.99% ARP:
While this might sound good for expensive diamonds (the 60 months plan is for +$6000 diamonds), it might not be a good option for most people because of the high APR, your own card might have a lower interest, and it might be a better choice to get the financing through your card, not Blue Nile's.
It's worth mentioning that the card program is available to the residents of United States, Puerto Rico, Guam, US Virgin Islands, and Northern Mariana Islands only, and applicable for purchases made in US dollars
For the full terms & conditions for Blue Nile Financing options, check this page.
10) Diamond Price Match Guarantee 
Similar to hotels booking websites, Blue Nile started their own Price Match Guarantee program, where they assure their website shoppers that they will match any price if presented with an identical diamond to the showcased one on their site.
Generally speaking, the diamonds that you need to compare (The one you found on Blue Nile and the one on the competitor site) must be identical in almost everything (Carat weight, cut, color, clarity, fluorescence, table and depth percentage, symmetry, etc), you need to provide the GIA certificate for the other diamond, and a link that shows the public listed price (no coupons, no special discounts) for that diamond.
Also note that you can't benefit from this program if you've already bought the diamond, however, you can return it within 30 days if you're not happy with it. There are some other important terms about the program that you should be aware of, read the full program terms & conditions here.
On a similar note, James Allen followed Blue Nile and introduced their Diamond Price Match Guarantee in 2023, it's almost identical to Blue Nile's program.
Selecting And Buying an Engagement Ring from Blue Nile
We got you covered with our ultimate guid on how to select, choose, and buy her an engagement ring which applies to buying from Blue Nile for sure.
Many prefer to buy an engagement ring from Blue Nile simply because they have a smooth process to design your own engagement ring (as we've mentioned earlier).
You can start building the process either by budget, diamond shape, weight (carat), or the setting, then continue building other parts of her dream engagement ring one by one.
Read: Diamond Carat Chart: How Weight Affects Size
Frequently Asked Questions on Blue Nile
Are Blue Nile's Diamonds Conflict-free?
Yes, Blue Nile confirms that ALL their diamonds are ethically sourced and follow Kimberley Process to guarantee conflict-free diamonds.
We've covered this in deep detail in our Conflict & Blood-Free Diamonds Article, which goes more about diamonds sourcing and the Kimberley Process.
More on Blue Nile policy on this here.
Is Blue Nile customer service good?
Yes it is, you can rest-assure that their support agents will help you regardless if it was a quick question, or you needed an expert from Blue Nile to confirm something in particular about a diamond.
Does Blue Nile offer a military discount?
Yes, they offer 15% off select Regularly Priced Jewelry, you can read full details here, but in short, offer applies on "select regularly-priced jewelry excluding Bands, loose diamonds, settings, Build Your Own Diamond Jewelry®, Preset Engagement Rings, Preset Diamond Stud Earrings and Preset Diamond Solitaire Pendants".
We encourage you to read the details (linked above) carefully since it has many details you need to be aware of (and how to apply & get the discount).
Does Blue Nile have physical stores?
Yes, they had only 5 just 2 years ago, now they have +20! This is a bit weird since their whole business model works on technology, but it seems people LOVE to see diamonds with their eyes!
You can see their locations full list from here.
Does Blue Nile sell lab created diamonds?
As loose diamonds? No, but Blue Nile offers some lab-created jewerly by Lightbox.
Blue Nile offers exclusive collection from Lightbox (which is known to be a leader in lab-created diamonds & jewelry) on their site, they have earrings, necklaces, and bracelets.
Collection currently is very limited, around 60 different jewelry piece that you can select from, but since this is new, we expect Blue Nile to offer more variety soon, and possibly introduce loose lab-created diamonds as well.
You can browse their full lab-created jewelry from here.
Bottom Line
Blue Nile has revolutionized the diamonds industry for years, they are one of the largest online diamonds stores globally, and honestly, they have been working real hard recently to compete with other merchants by providing real 360 degrees images for their diamonds, which made a huge jump for them in the market. 
While Blue Nile might not be a good option for some people, they still cover a very large audience of diamond lovers. With more than 200,000 diamonds on their website, you will always find a good diamond for your budget.

To wrap up:
1- If you're getting less VS2 diamond, we don't recommend Blue Nile in this case because you can't 100% be sure of diamond clarity if it's eye-clean or not, even with their real images.
2- This is not applicable to eye-clean diamonds, VS2 & higher diamonds are safe to buy.
3- Blue Nile WAS the largest online diamonds store, James Allen now is the leader with +300000 diamonds.
4- Blue Nile Astor is overpriced in most cases, get a regular excellent cut diamond and it will be perfect.
We hope you found this review insightful! 
For further details, you can check our James Allen Vs. Blue Nile Comparison & Review, and if you still have any questions, please don't hesitate to reach out and drop us a comment or send a message, and we will be glad to help.
Still not sure where to buy your diamond?
---
We always recommend shopping diamonds online and created a Full guide to shop diamonds like a Pro.
Among online retailers, here are our favorite stores click their logo to visit store
James Allen:

Our favorite online store, best diamond imaging technology available today, comes with the largest collection with more than half a million loose diamonds.






Blue Nile:

Widest collection of loose diamonds of all sizes, great imaging technology for most of their inventory (hundreds of thousands of diamonds), great customer support.