James Allen review in a few lines:
Established seven years post the advent of Blue Nile, while the latter revolutionized diamond industry by offering thousands of diamonds from all stores around the world, James Allen did the same, but added a huge touch of technology to their experience.
By heavily investing in advanced imaging technologies for their diamonds and jewelry, James Allen has redefined our interaction with the elusive sparkle, ensuring that customers can make purchases with absolute assurance, well aware that the virtual representation precisely mirrors the real allure.
To mention a few key points of our review, here is a quick overview of James Allen:
They are the largest diamonds retailer on the planet, you can browse up to half a million diamonds on their site
They offer highest imaging technology available today, surpassing any other online retailor
Their exceptional customer service complemented by expert assistance enriches the shopping journey, manifesting a standard that's par excellence
They offer 30-day money back guarantee, so you can shop worry-free there
Not only do they undercut local retailers by a substantial 20-30%, but their pricing also holds a competitive edge over other online outlets, promising both affordability and value.
Their collection goes beyond diamonds, they offer wide range of rings (engagement & wedding), jewelry, custom-made, and much more

Despite our decade-long recommendation of James Allen to our readers, we aim to give you a comprehensive and unbiased review of James Allen in this article. Recently crowned as one of the largest online diamond stores globally, let's delve into the specifics of what makes James Allen a unique marketplace.
1. Inventory & Collection: Diamonds, Rings, and Jewelry
Put simply, they have the largest diamonds collection globally that you will never find on any other store, online or offline.
We're talking about hundreds of thousands of loose diamonds, for any budget & style you can think of.
Whether your budget is as little as $200, or you want to buy a $2.4m 19c diamond, they have something for you.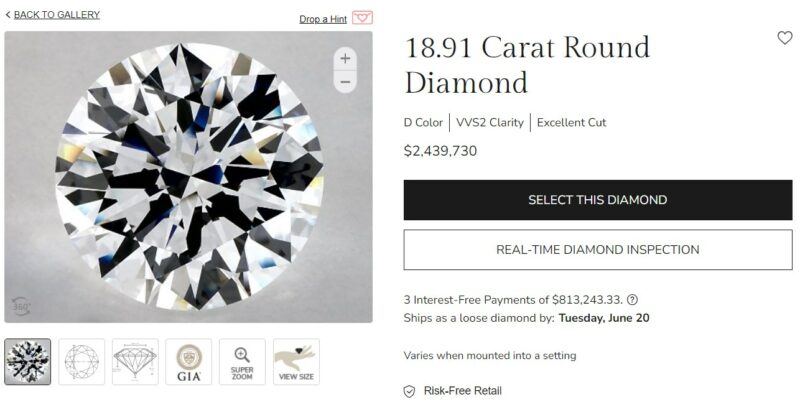 Their collection includes hundreds of insanely high grades like D or E diamond color, as well as flawless FL clarity grade.
These include natural diamonds, as well as lab grown ones, and on this particular line, they offer 60k+ lab created diamonds.
If interested, read more about Lab Grown diamonds & why they are becoming very popular these days.
In terms of fancy colors diamonds, James Allen shows no signs of slowing down, and offer tens of thousands of them.
Enough about diamonds, let's see their jewelry part.
On gemstones, James Allen sells blue, pink, green and yellow Sapphires, red Rubies, green Emerald.
As for fine jewelry, they almost have everything you can think of, and it would be too long to list them here, this is a screenshot to have an idea what you can get there:

2. Diamond Imaging Technology at James Allen
Simply put, the imaging technology utilized by James Allen stands unrivaled, marking it as the premier choice among all online diamond retailers globally. It's arguably even more precise than examining a diamond through a jeweler's loupe.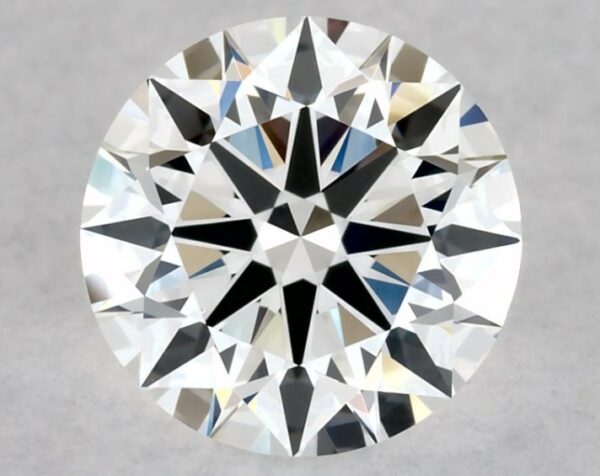 James Allen has significantly transformed the online diamond shopping experience with its pioneering imaging technology. Every single diamond—mind you, there are hundreds of thousands of them there—is available through a high-definition, 360-degree video, enabling customers to scrutinize the gem with a fine-toothed comb before making a purchase.
This virtual inspection echoes the experience of observing a diamond under a jeweler's loupe, illuminating every facet from the cut quality to any potential inclusions.
To elaborate a little further, let's consider three images of very similar diamonds (of Ideal cut, VS2 clarity, G color, around 1 carat) as represented by James Allen, Blue Nile, and Whiteflash respectively:

Links in order (from left to right): James Allen diamond, middle is Blue Nile, lastly Whiteflash.
It's worth mentioning that the quality offered by Whiteflash is remarkable, to say the least. However, a drawback is their limitation on imagery for their entire collection—they only provide images for the diamonds available in-house.
The SuperZoom: 40x Magnification
Their unrivaled imaging technology: Diamond Display Technology™, encompasses a SuperZoom feature, enabling a closer look at diamonds with up to 40x magnification—far exceeding the industry norm.
Here is an image of how a diamond appears under 20x magnification on James Allen: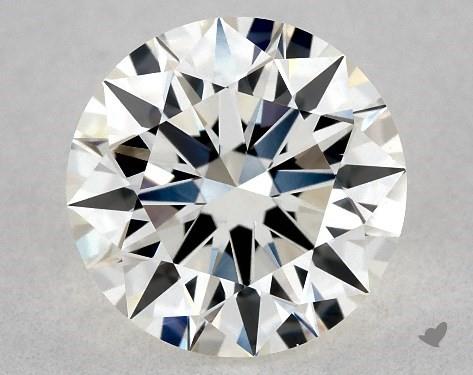 Following that, here's a glimpse using the 40x SuperZoom feature: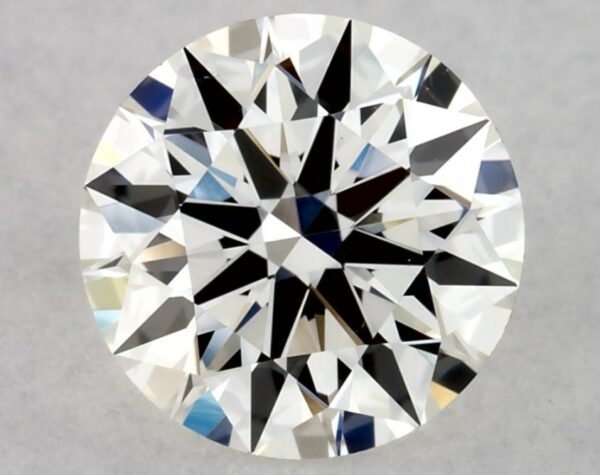 This isn't merely a "zoomed-in" version of the image; rather, it's an entirely separate 360-degree image captured at 40x magnification.
Impressive, isn't it?
Furthermore, customers can leverage the real-time diamond consultation feature, a service allowing you to examine and discuss diamonds in real-time with a non-commissioned diamond expert.
This adds a layer of interactivity and education to the buying experience, making it more insightful and engaging.
In addition, customers can also take advantage of the Real-Time Diamond Consultation feature, which lets you examine and discuss diamonds in real time with a non-commissioned diamond expert, creating a more interactive and informed buying experience.
Random fact: R2Net, the parent company of James Allen, also owns Segoma—the company behind the display technology used on the James Allen website. With its ground-breaking imaging technology, Segoma, valued at tens of millions of dollars, has revolutionized diamond display across major online stores globally, redefining the shopping experience for diamond enthusiasts everywhere.
3. Diamond Sourcing: A Stand for Conflict-Free Diamonds
Ethics and responsible sourcing form the cornerstone of James Allen's operations. They are deeply committed to tracing the origins of their diamonds, thereby guaranteeing that every diamond they offer is conflict-free.
This assurance means customers can shop with peace of mind, knowing they are not purchasing a blood diamond.
To fortify this commitment, James Allen adheres to stringent international standards including the Patriot Act, the Kimberley Process, and various United Nations resolutions, ensuring that each diamond they sell is certified conflict-free.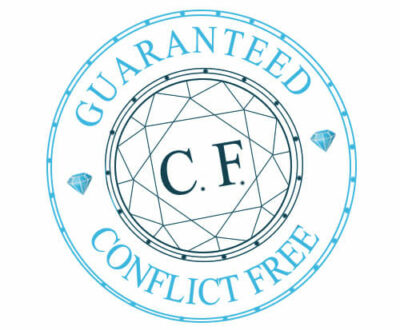 They even transcend these governmental stipulations by entering into binding agreements with their suppliers. These contracts ascertain that the suppliers' diamonds comply with all pertinent laws and are certified conflict-free.
Additionally, James Allen exclusively sources polished diamonds from esteemed members of the professional diamond trade.
4. Designer Collection
If you have a penchant for distinct, artisan-crafted designs from globally recognized jewelers like Verragio or Danhov, the James Allen Designer Collection is your perfect match. This collection is crafted especially for individuals aiming to express their unique style through meticulously curated pieces.
As of writing this, James Allen showcases hundreds of diverse custom engagement ring designs from various esteemed brands.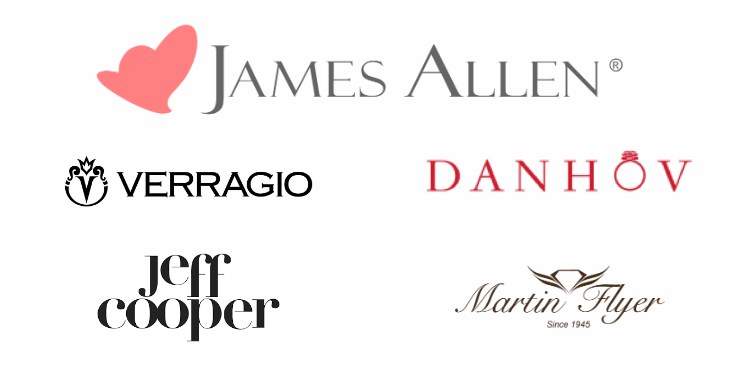 Furthermore, the Designer Collection emerges as an exceptional choice for those who hold prestigious brands in high regard and dream of owning a piece from their exquisite lineup.
This collection presents a seamless avenue to own a design masterpiece, embodying the signature quality and intricate detailing that these renowned designers are famed for, all without the necessity of stepping into a retail store.
5. James Allen Prices Review
The pressing question remains: How do the prices of diamonds and rings at James Allen fare in terms of competitiveness or affordability?
With over 12 years of experience navigating through an ocean of diamond stores, we've found that James Allen's pricing for diamonds stands among the most affordable, whether online or in brick-and-mortar establishments.
And this isn't solely our perspective – various authorities and online sources echo the sentiment that James Allen often outshines traditional brick-and-mortar jewelers when it comes to value.
Given the unique nature of each diamond, drawing a direct comparison can be quite challenging. However, for a clearer understanding, let's compare the prices of James Allen with another reputable vendor, Blue Nile.
We'll use the following criteria for our comparison: Ideal cut, H color, VS2 clarity, 1 carat, excellent polish & symmetry, GIA certified, and no fluorescence.
This search on James Allen provided 77 diamonds, with prices varying between $5600 and $6500.
When conducting the exact same search on Blue Nile, 69 diamonds were found with prices fluctuating between $5800 and $6800.
You might say that prices aren't that much different, but keep in mind, we're comparing James Allen with the largest competitor in terms of inventory & prices, if you compare to other "regular stores", prices would be completely different (up to $1000)
Their primarily online operating model drastically trims overhead costs, a saving grace they generously pass onto their customers. As such, their prices are often more budget-friendly without skimping on the quality or variety of their diamonds and jewelry.
Adding another feather to their cap, James Allen has rolled out a Price Match Guarantee for all their diamonds. If you stumble upon a better price for an "almost" identical diamond (with all 4Cs aligning, alongside numerous other diamond attributes), they're more than willing to match that price for you.
6. Ring Customizer and Designer
Much like other online jewelers, James Allen offers the liberty to personalize your ring, choosing your preferred setting and pairing it with the diamond of your choice to ensure the final piece resonates with your aesthetic.
However, the offerings at James Allen transcend this standard.
They further empower customers to shape their own diamond rings and handpick the specific gemstones they wish to feature.
Whether spurred by a diamond design you've sketched or aiming to replicate a style you've admired elsewhere, James Allen is primed to turn your vision into a reality.
This unmatched shopping experience is a vital factor fueling James Allen's popularity, beckoning thousands of patrons globally to gravitate towards their platform.

7. Website Experience & Navigation
Having navigated through a myriad of prominent online diamond stores including Blue Nile, Whiteflash, Ritani, Tiffany & Co, and Brilliant Earth, assessing each for their browsing features, James Allen distinctly stands out.
The masterminds behind this platform are top-notch engineers and designers who've channeled their expertise into crafting a high-tech, user-friendly platform. This distinct, customer-centric approach to technology catapults James Allen into a league of its own, markedly enriching the user experience.
As you traverse through the site, the search functionality, product filtering and viewing, and even the checkout process shines through, manifesting a platform that aligns with elite global standards for user experience.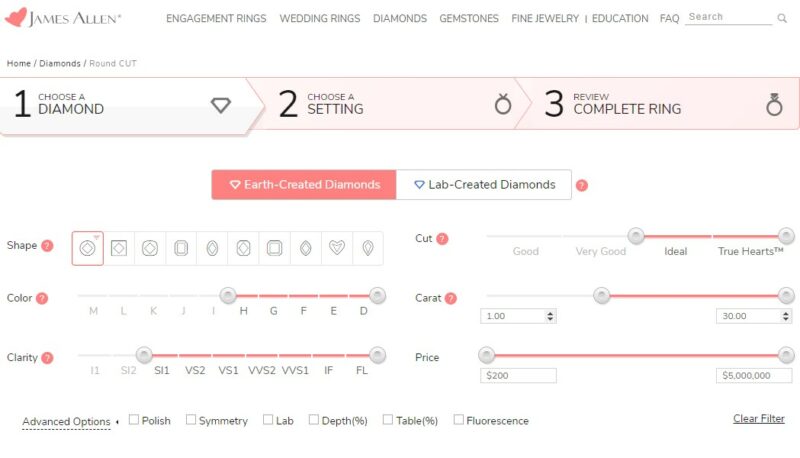 Moreover, the James Allen website is designed for ease of navigation without unnecessary clutter or aggressive cross-selling techniques. This approach keeps you centered on your chosen gem and setting until you finalize your purchase, allowing for a straightforward process of selecting your ideal diamond, picking a suitable ring, paying, and completing your order smoothly.
Additionally, James Allen's site features a 24/7 chat option integrated directly into their pages. This feature provides customers with immediate access to customer care representatives, ensuring quick resolution to any queries or concerns.
8. James Allen Customer Service Review
When purchasing diamonds, customer support is of paramount importance due to the high-value and nuanced nature of the product. In this regard, many have found that James Allen offers robust customer service, with a team that operates 24/7 and usually responds in less than a minute.
James Allen's customer care representatives are well-equipped to answer any questions related to diamonds or any specific items on their platform. This is a result of an intensive 6-week training program on diamonds and jewelry that each representative undergoes before interacting with customers.
The company aims to ensure that its employees can address customer needs independently and effectively. Furthermore, in an uncommon practice for the industry, James Allen's customer service teams are non-commissioned, implying they are dedicated to providing professional service without the pressure of sales quotas.
Some customers have reported that representatives will candidly highlight potential issues with a specific diamond, offering advice to steer clear if necessary. James Allen's customer service can be reached via live chat—a particularly helpful feature when inspecting a diamond—email, phone calls, or through their Customer Support page form.
9. James Allen Lab-Grown Diamonds
Responding to a high demand for environmentally and budget-friendly gemstones, James Allen ventured into the lab-grown diamond arena around 2019.
This strategic move marked a substantial stride towards embracing a sustainable yet dazzling alternative to traditional diamonds.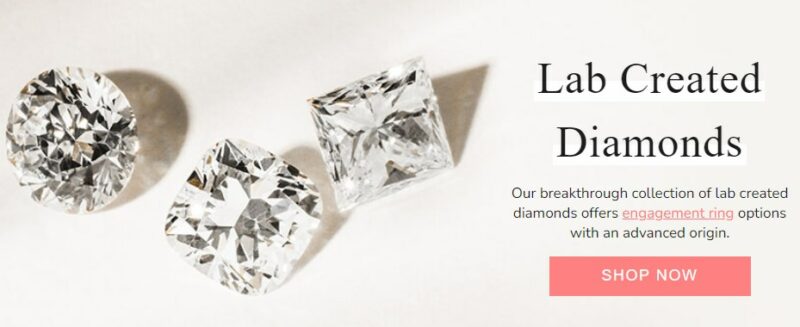 James Allen started small on this front, by offering "thousands" of lab-created diamonds (this is considered slow compared to their natural diamonds collections), but as of 2023, James Allen boasts a remarkable inventory of over 54,000 lab-created diamonds, mainly graded by the International Gemological Institute (IGI), with a notable recent inclusion of Gemological Institute of America (GIA) grading for their lab-grown lineup.
Among the lab-grown diamonds on offer, you'll find an astonishing range that fits diverse budgets, styles, and preferences. A highlight in their collection includes an 8.37 carat diamond, priced at an attractive $33,000—a fraction of the cost of a similar natural diamond, which could be as much as $250,000.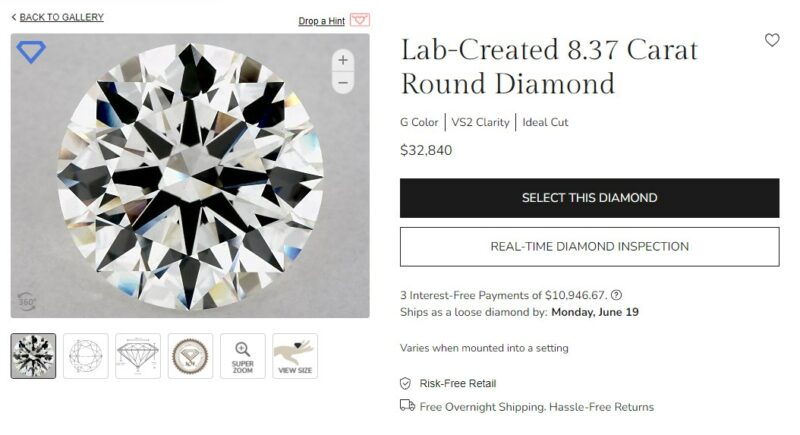 Each lab-created diamond listed is accompanied by comprehensive details and the same high-definition 360-degree imagery with 40x magnification that you'd encounter with their natural diamonds.
This penchant for detail and transparency has propelled James Allen to a venerable stature in the lab-created diamond domain.
For those keen on delving deeper, our comprehensive guide on the Best Places to Buy Lab-Grown Diamonds would serve as a valuable reservoir of insights.
10. Packaging and Delivery
The essence of gift-giving often lies in the presentation.
It's the initial spectacle that encapsulates the sentiment and augments the allure of the gift. This ethos holds an elevated significance in the realm of diamond rings, where the confluence of elegance and emotion orchestrates an unforgettable moment, be it an engagement or a milestone celebration.
It's quite natural to have some concerns about investing a substantial sum in a ring, only to be underwhelmed by its arrival in an uninspiring package akin to a mere $2 package, like this one: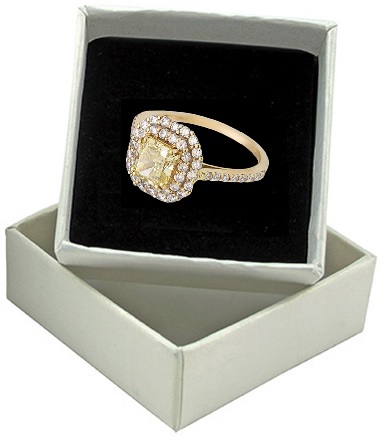 With James Allen, this is never a concern. Their attention to detail extends beyond their product offering and includes their packaging presentation as well.
Every ring you order from James Allen arrives in a tastefully designed package that mirrors their brand's identity. Nestled within a larger silver and white box, you'll find a smaller, pocket-friendly red box, ideal for the surprise proposal😉.
The larger box's charm lies in its dual utility, designed to be repurposed as a jewelry box.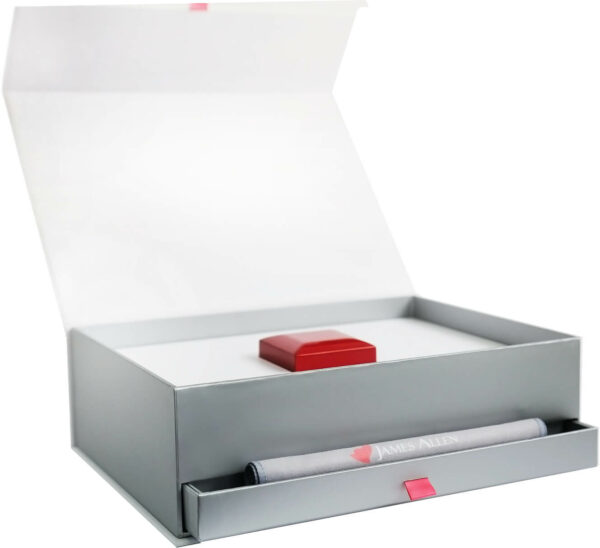 Included in the package are important documents such as the diamond certificate (issued by either GIA, AGS, or IGI), an appraisal certificate, a quality assurance guarantee, along with a handy cleaning cloth.
11. Engraving, Shipping, Return Policy, and Upgrades
James Allen offers free engraving services for personalized jewelry, saving customers additional costs.
They also recently transitioned to a free international shipping model, providing even more savings. Always check their return policy, but they generally offer a 30-day money-back guarantee, giving customers the freedom to return items if necessary.
As for warranty, James Allen stands out with its lifetime warranty, which covers maintenance services like cleaning and polishing. They also provide a lifetime upgrade allowance, allowing customers to exchange their diamonds for new ones worth at least twice the price of the original.
Additionally, they offer an insurance option for diamonds, ensuring protection against theft or damage.
Please remember to review all their terms and conditions before making a purchase.
James Allen Review: The Not-so-Good Side
No retailer is exempt from the inevitability of varied customer experiences, and James Allen is no exception to this rule. Like any large-scale retailer, there are instances where customers might find their experience falling short of expectations.
A common ground for discrepancies can arise from the differences perceived between the online imagery and the physical appearance of the diamonds. The high magnification of online images, while providing all details, might not always translate to the real-life appearance of the diamond, possibly leading to a divergence in expectations.
Despite these occasional hiccups, it's noteworthy to mention that James Allen holds a well-regarded stance in the diamond retail industry. Their strong reputation is a testament to their consistent delivery of quality and service.
However, a discerning eye towards potential downsides and a thorough understanding before making a purchase will ensure a well-rounded and informed buying decision.
1. Limited Number of Showrooms
For those who cherish the age-old tradition of in-person jewelry shopping, it's pivotal to note that James Allen currently operates only two showrooms located in New York and Washington, D.C.
While the potential for expansion can't be dismissed, it's important to remember that their primary strength lies in their online presence, which is the heart of their business model. Therefore, the opening of new showrooms in the near future might not be in their immediate plans.
2. James Allen's Payment Options & Terms
James Allen offers a diverse set of payment options to cater to different customer preferences. They accept all major credit cards, including Visa, Mastercard, American Express, and Discover, offering a seamless checkout process once your payment is approved.
For those who prefer digital transactions, James Allen accepts PayPal. This is a convenient, secure, and free-of-processing-fees option.
If you'd like to receive a 1.5% discount on your item's listed price, you can opt for a wire transfer. This method, which may be required for international orders and/or purchases above $20,000, allows your items to be shipped once your transfer confirmation is completed.
You like installments? James Allen collaborates with SplitIt to facilitate easier payment. With SplitIt, you can break up your payments into smaller, manageable amounts, helping you avoid accumulating interest payments.
With this option, you can relish your dream jewelry while maintaining a healthier bank balance. However, do exercise caution and not let this flexible payment method tempt you into purchasing diamonds significantly pricier than what your budget comfortably allows.
Frequently Asked Questions on James Allen
Is James Allen customer service good?
Indeed, it's one of the best services out there, they have 24/7 chat support with non-commissioned agents, you can request real-time inspection of the diamond you want through their chat.
Does James Allen offer financing?
Yes (limited options), either close all payments within 6 months (no interest & min. $1000 order), or 9.90% APR with 24 Monthly Payments for orders above $2000.
Does James Allen offer a military discount?
Unfortunately no, James Allen runs several discount campaigns throughout the year (usually 25% off the setting), and it's available for everyone, no special discounts for military.
Does James Allen have physical stores?
Yes, they have a store in Washington, D.C. (drop by anytime) and another showroom in the 5th avenue in NYC (appointment only).
Does James Allen charge tax?
Yes, depending on YOUR location and not their offices, so you will pay taxes based on your state of residence.
Does James Allen ship to Canada?
Not only Canada, but worldwide (and now for free!).
Does James Allen resize rings?
Yes, and free of charge for 1 year from date of purchase, so you don't have to worry that much guessing her ring size, you can get it resized for free (but we encourage you to do your best and check our
10 hacks to find her ring size without her knowing
).
Does James Allen ship on time?
Generally speaking, loose diamonds are shipped 1-4 days after purchase since it needs to be inspected by their gemologists, and they ship with FedEx Priority, in general, it needs 1-3 weeks for engagement rings & all other jewelry to be shipped.
Are James Allen diamonds good quality & reputable?
Yes they are, James Allen is flipping the table on most major online diamond stores, and they can't do this with a regular business, that's why they have built a great reputation over 15 years of being in business.
That being said, they do have some bad diamonds indeed, when you have 400k diamonds, don't expect them to be all perfect, so it needs basic
knowledge of 4Cs
to get a great diamond.
Are James Allen diamonds GIA certified?
James Allen offers diamonds which are graded from GIA, AGS, and IGI (for natural diamonds), if you want to stick to 1 lab, you can filter your search to it.
Does James Allen have lab created diamond?
James Allen entered the lab created diamonds industry in the recent years, with massive collection (almost 54k diamonds as of writing this), feel free to check our full review about
lab created diamonds by James Allen
.
Are James Allen diamonds ethical?
Yes, James Allen confirms that 100% of
their inventory is clean
, outsourced from conflict-free countries and follows the Kimberley Process.
Why are James Allen diamonds cheaper than alternatives & walk-in stores?
For many reasons, mainly because they don't own all diamonds they offer, keeping costs (insurance, stocking, etc… minimal), they also sell in "bulks", a store that sells 1000s of diamonds daily will get much better prices for diamonds from a Brick & Mortar store.
Bottom Line on James Allen Review
To encapsulate our discussion, it's evident that James Allen is a trailblazer in the online diamond retail industry. They've simplified the digital shopping process, fostering trust in online diamond transactions, and provided an unmatched experience by allowing customers to browse hundreds of thousands of diamonds, at their fingertips.
Their exceptional customer service is always on hand to guide clients towards their ideal ring. Recognizing the complexities of online diamond purchases, James Allen's approach prioritizes customer comfort throughout the buying process.
They truly stand out in the competitive landscape of online jewelry shopping.
Still not sure where to buy your diamond?
---
We always recommend shopping diamonds online and created a Full guide to shop diamonds like a Pro.
Among online retailers, here are our favorite stores click their logo to visit store
James Allen:

Our favorite online store, best diamond imaging technology available today, comes with the largest collection with more than half a million loose diamonds.






Blue Nile:

Widest collection of loose diamonds of all sizes, great imaging technology for most of their inventory (hundreds of thousands of diamonds), great customer support.