In the vibrant world of the diamond industry, numerous online behemoths cater specifically to customers seeking diamonds and precious stones. Given the importance of such purchases, it's vital not only to understand the jewelry on offer but also to know the retailer themselves – their reputation, quality, customer service, and delivery dependability.
Among the sea of options, a select few retailers have managed to distinguish themselves with their impeccable reputations and vast collections.
In previous articles, we've delved into James Allen and Blue Nile in detailed reviews, two industry titans in diamond retail.
Today, we shift our focus to Whiteflash, an established player that's recently come into the spotlight. Focusing on ideal diamonds and high-end jewelry, Whiteflash is committed to delivering nothing short of exceptional pieces.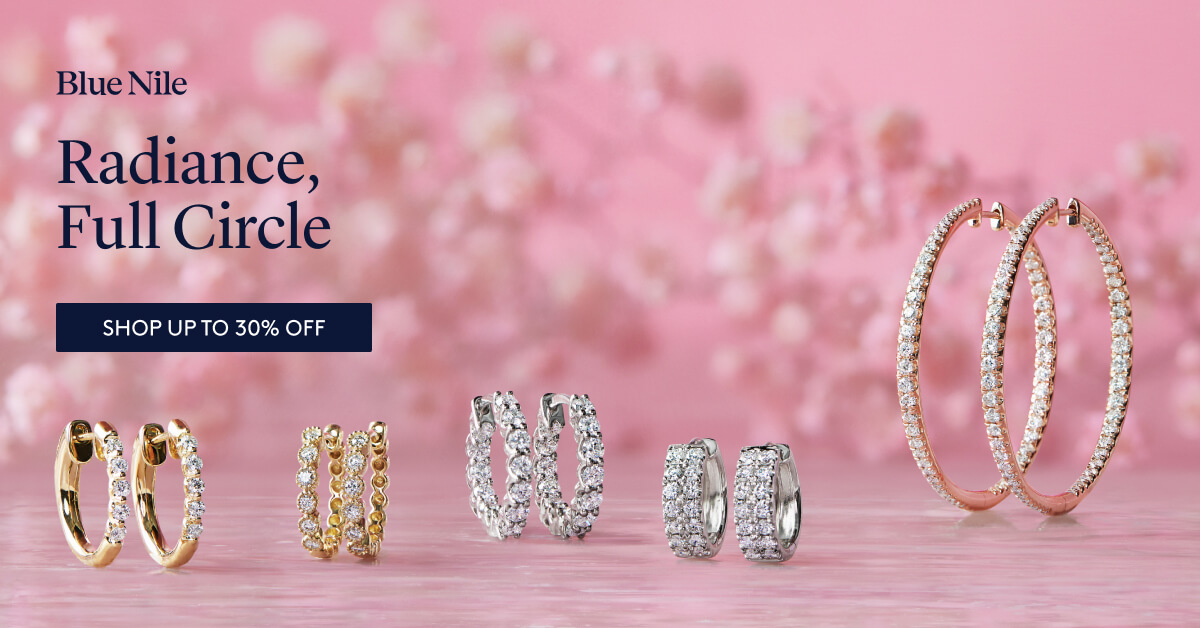 Now, let's embark on a detailed review of Whiteflash, beginning with an insight into the company's background and history.
Whiteflash Company Overview
Whiteflash, based in Houston, has been crafting and delivering exquisite jewelry since the turn of the millennium in 2000. Over the years, they've risen to prominence, particularly known for their exceptional diamond engagement rings. They've carved out a niche for themselves with their distinctive round hearts and arrows diamonds and AGS ideal princess cuts.
Parallel to James Allen and Blue Nile, Whiteflash offers a physical showroom for customers who prefer a tactile experience rather than purchasing diamonds online.
The company has uniquely positioned itself as the only online jewelry store to hold an ISO 9000 TQM Certificate – a commendable achievement not often seen in the global diamond industry.
Further enhancing their credibility, Whiteflash prides itself on having an in-house cadre of professionally trained diamond and jewelry experts. The majority of their consultants and staff possess certifications from leading diamond labs such as the GIA or AGS.
Such expertise provides assurance to customers, safe in the knowledge that their purchases are crafted and certified by industry professionals. Furthermore, Whiteflash's affiliation with the American Gem Society underscores their commitment to quality and ethical practices.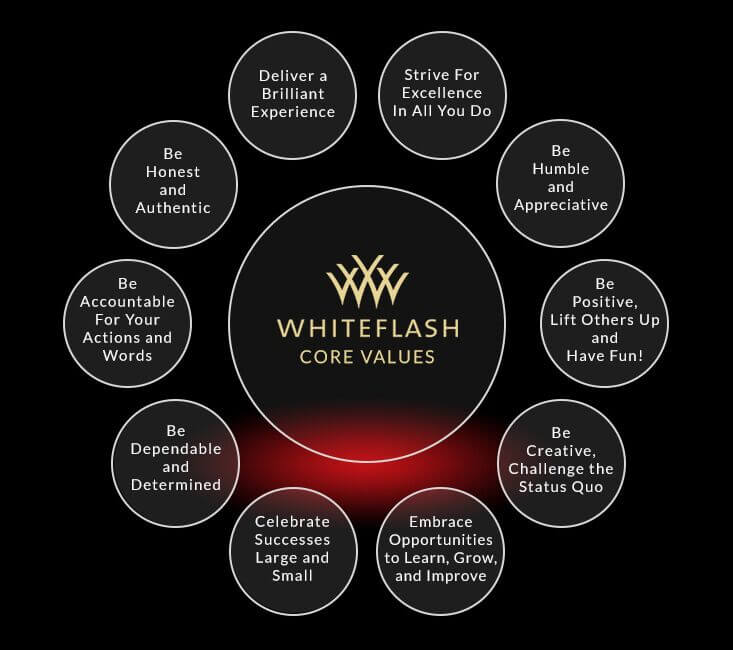 Whiteflash Diamonds Collection Review
Unlike other major online competitors such as James Allen and Blue Nile, Whiteflash uniquely boasts an in-house inventory of Hearts and Arrows Round Ideal Cut and Princess Ideal Cut Diamonds, laying claim to the most extensive in-house collection online.
Whiteflash's primary focus is on superior, high-quality diamonds. While they do accommodate lower grades, it's not their core offering. Customers usually in search of average grade diamonds would not typically consider Whiteflash their first stop.
The company prides itself on dealing exclusively with conflict-free diamonds, emphasizing their commitment to social responsibility.
Their impressive selection is home to over 13000 round diamonds (and over 34000 in all diamonds shapes).
Whiteflash's current in-house inventory includes over 1000 diamonds of ideal and excellent cut grade, with just four of them valued at around half a million!

Such extensive in-house inventory is a remarkable achievement in online retail, as not many companies have the capacity to hold millions worth of diamonds in stock.
To further sweeten the deal, Whiteflash carries designs from leading jewelry designers like Tacori, Simon G, Verragio, A. Jaffe, Ritani, Danhov, Vatche, and more. Choosing Whiteflash means you're selecting top-tier value and designs from world-renowned brands.
At the time of this review, they present over 450 designer engagement rings, a comprehensive collection for those who prioritize brand prestige.

Whiteflash Diamonds Imaging – 360 Degree Videos
Whiteflash enhances the buying experience by offering 360-degree videos of their diamonds, allowing buyers to see how each diamond facet reflects light, a vital factor in determining a diamond's sparkle and brilliance.
Click here to see the real video and how it responds in 360.
Further, Whiteflash provides actual images, an Ideal-Scope image, an ASET (Angular Spectrum Evaluation Tool) image, and a Hearts image for each diamond in their inventory. These tools offer in-depth insight into the diamond's light performance, cut precision, and overall quality.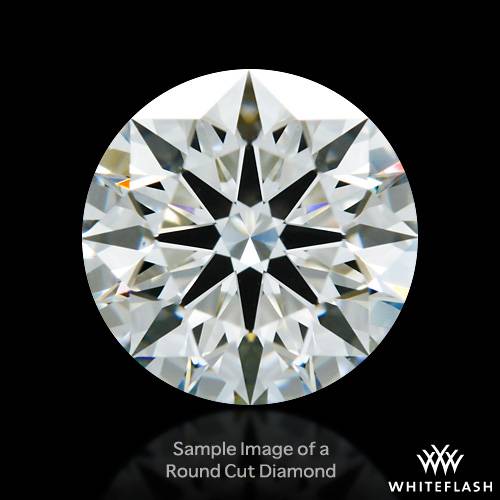 It's worth noting, though, that these videos and images are exclusively available for diamonds in their in-house inventory. Diamonds sourced from elsewhere are typically not accompanied by such detailed imagery or videos.
Therefore, if you're planning to buy from Whiteflash, it's strongly recommended to choose from their in-house inventory. This guarantees you'll have all the necessary visual information at hand to make an informed decision about your diamond purchase.
Whiteflash Diamond Certification Labs
As a long-standing member of the American Gem Society (AGS), Whiteflash predominantly offers in-house diamonds certified by AGS, a highly respected diamond certification lab.
Most of their outsourced or virtual diamonds are certified by the Gemological Institute of America (GIA), the globally leading authority in diamond certification.
Whiteflash's commitment to high-quality diamonds necessitates collaboration only with the top-tier certification labs, leaving no room for subpar grading entities. As such, they do not carry diamonds certified by lower-quality labs.
A related note of caution to our readers: we strongly advise against purchasing diamonds with an EGL certificate for reasons detailed in our comprehensive EGL lab review.
Whiteflash Reputation: Awards & Online Reviews
Whiteflash's dedication to their craft and customers over the past nineteen years has garnered them significant recognition. In 2018, they received the prestigious BBB Pinnacle award from the Better Business Bureau.
Whiteflash has consistently maintained an A+ rating and won the BBB Winner of Distinction for 14 consecutive years since 2004, putting them in the same league as major online vendors like James Allen and Blue Nile.
When it comes to customer reviews, relying solely on testimonials listed on a vendor's website can be limiting. Hence, we'll turn to independent third-party platforms, such as Google My Business.
Even the finest places on earth rarely exceed ratings of 4.7 or 4.8 on Google. Yet, Whiteflash surpasses this, holding a perfect 4.9 rating from nearly 650+ reviewers – a testament to their excellent shopping experience, customer service, and product variety.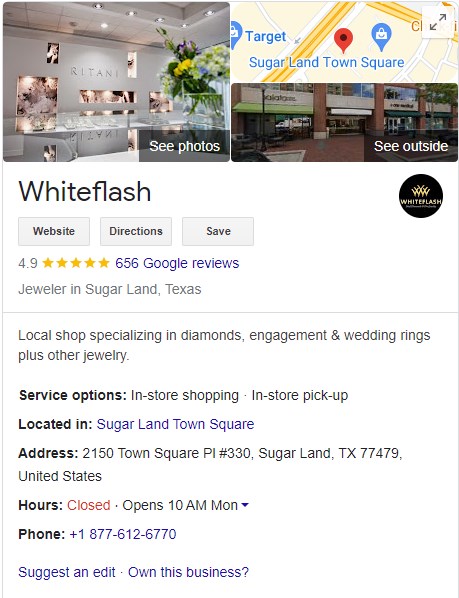 Additionally, their high rating of 4.5 from over 145 reviews on Yelp further underscores Whiteflash's reputation as a trustworthy diamond retailer.
Whiteflash A CUT ABOVE ® Collection Review
Whiteflash's A CUT ABOVE® diamonds represent the pinnacle of light performance, pushing the boundaries of what's achievable. We've explored various cut grades and their light responses, with the excellent (ideal) grade being the best cut grade classified by GIA. However, less than 1% of diamonds attain near-perfect cut.

A CUT ABOVE® diamonds reflect light even more brilliantly than excellent-graded diamonds, exhibiting a symmetry that could almost be mistaken for a digitally designed pattern. This collection represents the highest quality of diamond cuts.
The hearts and arrows of each diamond can be seen clearly in their magnified images, as you can see in this real A CUT ABOVE® diamond image: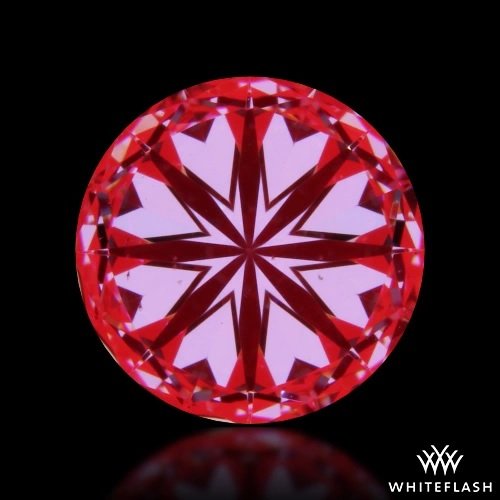 From our perspective, while we generally don't recommend brands like True Hearts™ from James Allen, or Astor by Blue Nile™ if their prices don't align with your budget, the price difference between A CUT ABOVE® and other excellent cut diamonds with similar characteristics seems reasonable.
It's crucial to remember that Whiteflash is committed to offering premium and top-quality diamonds. So when they present a collection surpassing their regular premium selections, it's bound to be distinctive, without a significant price hike.
Even when searching among very high color grades, like D or E colors, you're likely to find excellent options within the A CUT ABOVE® selection.
Whiteflash Shopping Experience Review
Being a leading online diamond retailer requires a seamless, user-friendly, and optimized shopping experience.
Here at SelectingaDiamond.com, we admire the shopping experience on James Allen's website and consider Whiteflash's site to be somewhat between that and Blue Nile, leaning more towards James Allen.
Whiteflash's website boasts an elegant black theme that, while potentially not to everyone's taste, instills a sense of sophistication.
A standard search for a diamond on their site provides numerous filtering options, including the 4Cs, price, inventory, polish, symmetry, table percentage, depth percentage, length-to-width ratio, certification, fluorescence, and category. This extensive range of filters allows you to pinpoint the perfect diamond based on your specific criteria.
Each diamond's detailed page, as shown in this screenshot, lists almost every aspect of the diamond without hidden or hard-to-read information: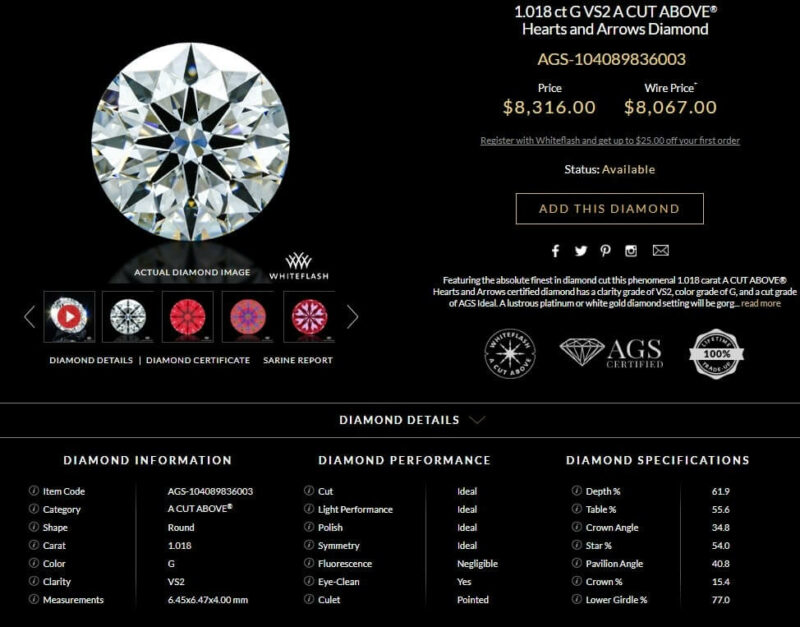 When you've decided on a diamond, hovering over "Add this Diamond" presents you with four options: adding it to an Engagement Ring, Shopping Cart, Compare list, or Wishlist. These thoughtful touches enhance the user experience, offering various options with minimal clicks.
The checkout process is straightforward, particularly for registered users, as many fields autofill. In summary, Whiteflash's website offers a stress-free, pleasing, and easily navigable shopping experience. Designed by an industry expert, it eliminates the need for multiple tabs, resulting in a robust e-commerce platform that ensures a secure online purchase experience.
Whiteflash Customer Service 
Customer service is an integral part of any shopping experience, and it's vital to consider a vendor's reputation in this area before and after your purchase. Whiteflash has demonstrated excellent customer service, as evidenced by the numerous five-star reviews on their Google page. Many reviewers specifically mentioned the exceptional service they received when dealing with Whiteflash.
Equally important is the availability of multiple support channels. Whiteflash provides support through toll-free phone calls, international calls, emails, and live chat. We've tested their live chat availability at various times throughout the day, and they've consistently been online and responsive.
You can also submit inquiries or requests through a form on their website, and they'll get back to you promptly. This comprehensive and readily available customer support reinforces Whiteflash's commitment to delivering a high-quality customer experience.
Whiteflash Payment Options
Whiteflash serves a global customer base, thanks to their offer of free FedEx shipping worldwide. The payment methods they accept vary based on the customer's location:
Customers in the USA & Canada: All major credit cards (Visa, MasterCard, American Express, Discover) as well as PayPal and bank wire transfers are accepted.

Customers outside the USA & Canada: Only wire transfers are accepted.

Credit cards issued in the UK, Australia, New Zealand, and Singapore may be accepted in certain cases. Customers from these countries should confirm with Whiteflash before proceeding.
It's important to note that a 3% discount is available for those who choose to pay via wire transfer.
Whiteflash Financing Options
For those considering purchasing an engagement ring on installment, we strongly suggest that you avoid starting your engagement and married life with debt. Understandably, financial circumstances vary, and you should aim to select a ring that suits your budget.
However, if you still decide on financing, Whiteflash provides an option via Affirm. Before proceeding, it's recommended to create an Affirm account and pre-qualify. This way, you'll understand the specifics of your payments upfront.
You can spread the cost over 3, 6, or 12 months, with interest rates starting at 10% APR. Be aware, rates can go up to 30%, which underscores the importance of checking your terms in advance.
Whiteflash Return Policy Review
Whiteflash's return policies differ depending on the type of purchase:
1- For in-house selection diamonds, they offer a 30-day, no-questions-asked, money-back guarantee.
2- For diamonds from their virtual inventory, a 10-day hassle-free return window is provided.
3- Custom made or altered jewelry, beyond standard sizing, cannot be returned.
Other Factors That Put Whiteflash Ahead of Competition
Trade up
Whiteflash provides a 100% lifetime trade-up benefit exclusive to their in-house selection of A CUT ABOVE®, Expert Selection, and Premium Select categories.
Notably, this offer doesn't necessitate an upgrade in diamond quality or a purchase of double the price of your original diamond, unlike some competitors like Blue Nile or James Allen. The process is straightforward: send back your original diamond and select any other diamond with the same or a higher price tag.

However, it's important to note that this offer applies only to their in-house diamonds and not to the virtual selection (outsourced diamonds).
This benefit could prove especially useful on occasions like your 5th or 10th wedding anniversary, as tastes evolve and buying power typically increases.
Free Worldwide Shipping
Whiteflash offers free worldwide shipping for all orders via FEDEX, regardless of order size or price. This generous policy aligns Whiteflash with other major online retailers.
Although this is promoted as "worldwide" shipping, logistics constraints do apply to certain countries. To see whether Whiteflash ships to your location, you can check their current list of serviceable countries here.
Loose Diamonds and Engagement Rings Packaging
Whiteflash understands the importance of presentation and packaging when it comes to premium quality diamonds. The type of packaging you receive depends on the item purchased.
For a standard engagement ring, they provide a distinctive and elegant packaging that enhances the reveal of your precious piece, making it a memorable experience.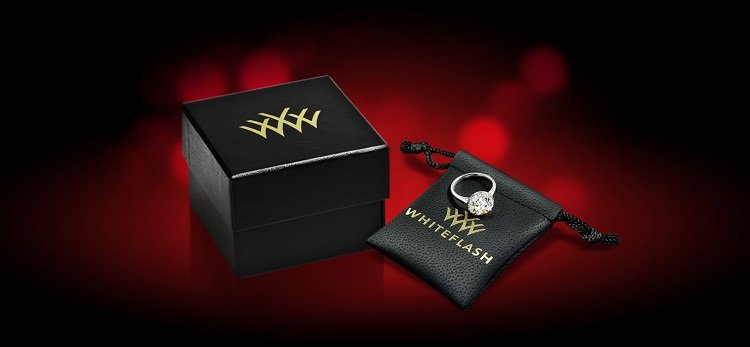 If you purchase a loose diamond, it comes in a simpler, yet still high-quality packaging that safely secures your valuable stone.

Lastly, for jewelry pieces such as earrings, Whiteflash provides a separate packaging style specifically tailored for these smaller items, ensuring they are presented with the same level of care and luxury: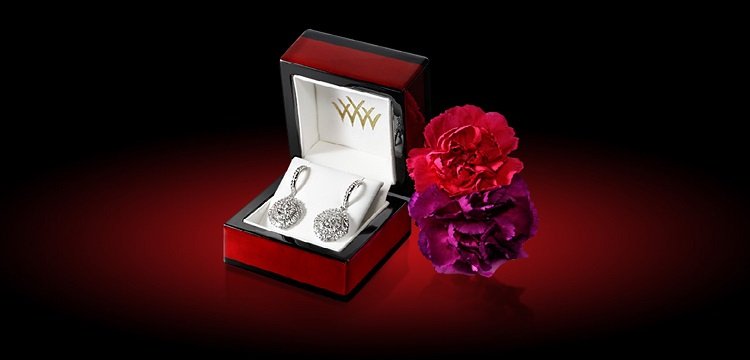 Professional Engraving
Engraving can be an excellent way to add a personal touch to your diamond ring, transforming it into a truly unique piece. While this service isn't offered for free at Whiteflash, they provide professional engraving services for a fee, generally around $39.
This allows you to add a personal message or symbol directly onto the ring, without needing to take it to a local jeweler for this special touch. Here are a couple of examples to show the quality of their engraving work: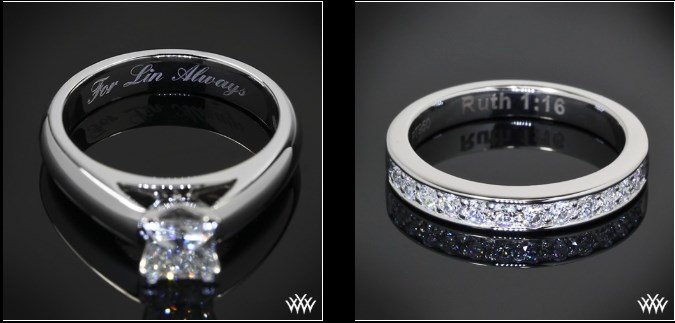 Whether you want to engrave a significant date, initials, or a special message, Whiteflash ensures the inscription is expertly added to your ring, making it even more meaningful.
3 Years Ultimate Care Plan
Whiteflash's 3-Year Ultimate Care Plan is a comprehensive service designed to provide peace of mind for customers regarding potential damages or issues that could arise with their diamond or ring. This service is paid, with the cost typically ranging between 2.5% and 4% of the jewelry's price.
The coverage provided by the Ultimate Care Plan is extensive and includes:
1- Restoration services required as a result of breakage due to faulty workmanship or damage due to normal wear. 2- Refinishing and polishing; rhodium plating white gold, chain soldering. 3- Replacement of cracked or chipped stones, including the center stones. 4- Loss of diamonds or gemstones due to a defective setting. 5- Soldering one ring to another. 6- Ring resizing, although this is subject to a 60-day wait period starting from your Plan purchase date. 7- Shipping costs (both ways) for covered services.
Click the image below to get more detailed information about this service on the Whiteflash website:
Overall, this plan provides considerable reassurance for Whiteflash customers, ensuring their precious jewelry can be repaired, restored, or replaced under various circumstances.
One Year Buy-Back Guarantee
Whiteflash offers a unique buy-back program for their in-house collection of diamonds. This service allows customers to sell their diamond back to Whiteflash for 70% of the original purchase price. Although this may not seem like a financially optimal solution, it provides a fallback option for customers whose tastes or circumstances change over time.
This buy-back offer is valid for one year from the date of purchase. This effectively extends the return period by 11 months beyond their standard free return policy. However, it's essential to remember that this offer only applies to diamonds from Whiteflash's own collection, and not the outsourced ones.
While the 70% buy-back offer may not recover the full value of the original investment, it's a beneficial safety net, especially when considering the fluctuating nature of the diamond market and the potential for changes in personal preferences or circumstances.
Whiteflash Review Summary: Pros and Cons
To summarize all the points discussed so far, here is a breakdown of the advantages and disadvantages of choosing Whiteflash:
Pros:
1- Whiteflash caters to discerning customers who prioritize quality over budget.
2- They maintain a vast in-house inventory of premium diamonds.
3- Their website provides an excellent shopping experience, with straightforward search and filter options.
4- Whiteflash only deals with GIA & AGS-certified diamonds, ensuring customers get the highest quality.
5- Their A CUT ABOVE® Diamonds selection offers the finest cut quality at reasonable prices.
6- They provide 360-degree videos & high-resolution images for their inventory.
7- Their lifetime trade-up policy is an excellent offer that may come in handy down the line.
8- Whiteflash's customer service is excellent, as supported by their strong online reviews.
9- Their return policy is fair and convenient.
10- Their website provides an excellent mobile experience, displaying all details properly.
11- The packaging for diamonds & jewelry is top-notch.
Cons: 
1- They do not provide images for their outsourced diamonds (our recommendation is to avoid this option).
2- They primarily focus on premium diamonds. If you're looking for average diamonds, Whiteflash might not be the best place to shop.
3- Payment options are limited for international customers.
4- Financing options are also somewhat limited and come with relatively high APRs
Whiteflash vs James Allen Comparison
Two giants and among the top 10 online retailers whenever we mention diamonds online shopping, James Allen and Whiteflash.
These two companies have embraced technology and innovation, leveraging online platforms to reach global customers and offering wide selections of diamonds.
However, each has unique strengths and focuses, catering to different types of consumers, whether you value budget-friendly options, high-quality cuts, diverse selections, or exceptional customer service, we've got you covered.
Let's delve into a detailed comparison of James Allen and Whiteflash.
Diamonds Imaging Technology
James Allen:
James Allen: Their diamond imaging technology is one of its standout features. They utilize Diamond Display Technology™, which offers high-definition, 360-degree videos of every single diamond in their inventory. This technology provides customers a clear and up-close look at the diamonds, allowing them to inspect the clarity, color, cut, and carat size. They also have a SuperZoom feature that provides a highly magnified view of the diamond, equivalent to a jeweler's loupe.
Whiteflash: Whiteflash also provides comprehensive imaging technology for their diamonds. For their in-house diamonds, they offer multiple high-resolution images, a 360-degree video view, and IdealScope and ASET images that show the light performance of the diamonds. Additionally, they provide Hearts and Arrows viewer images for their super ideal cut diamonds. 
Website User Experience
James Allen: This platform is user-friendly, providing a high-definition, 360-degree view of each diamond, which lets customers see exactly what they're buying. However, some users may find the sheer number of choices overwhelming.
Whiteflash: Whiteflash also provides a user-friendly experience, but with less variety. Their specialty is in super ideal cut diamonds, specifically their A CUT ABOVE® diamonds. The site has an abundance of educational material, but may not provide as much variety as James Allen for those looking for different types of cuts.
Selection
James Allen: Offers one of the largest selections of diamonds and settings online. This can be beneficial for customers who want more choices, but it can also be overwhelming for some.
Whiteflash: They have a more limited selection, focusing primarily on high-quality, super ideal cut diamonds. This is great for customers who know exactly what they want and are willing to pay for top quality.
Diamond Quality
James Allen: They offer a wide range of diamonds of all qualities, from budget options to high-quality diamonds. This makes them a good choice for people on a budget, but the quality can vary significantly.
Whiteflash: They specialize in high-quality, ideal cut diamonds. Their A CUT ABOVE® diamonds are among the best available, but this also means they tend to be more expensive. They may not be the best choice for those on a strict budget.
Pricing
James Allen: Generally, James Allen provides competitive prices because they operate online and can minimize overhead costs. Their wide variety of diamonds also means they cater to various price ranges.
Whiteflash: Their diamonds are generally more expensive due to the high-quality, super ideal cuts. They are more geared towards customers willing to spend more for top quality.
Customer Service
James Allen: They offer 24/7 customer service and a lifetime warranty, but some reviews have highlighted instances of delayed responses or difficulty in resolving issues.
Whiteflash: Their customer service is generally well-regarded. They also provide a lifetime trade-up option for select diamonds, but their return policy period (as of my last update) is shorter than that of James Allen.
Premium Cuts (Hearts & Arrows)
James Allen: True Hearts™ is James Allen's line of ideal cut diamonds. They are cut in a pattern that reflects a perfect Hearts and Arrows design, similar to A CUT ABOVE®, showing a high level of symmetry and precision in the cut.
These diamonds are also selected for their ability to reflect light beautifully, enhancing their brilliance and fire. True Hearts™ diamonds can be certified by either the AGS or the Gemological Institute of America (GIA)
Whiteflash: A CUT ABOVE® is Whiteflash's line of super ideal cut diamonds. These diamonds represent the top 1% of diamond quality based on cut. Each A CUT ABOVE® diamond has been cut to extremely precise proportions that reflect almost all light that enters the diamond, giving them exceptional sparkle and brilliance.
Moreover, these diamonds meet very stringent requirements and undergo rigorous inspection, which includes analysis under magnification, light performance imaging, and assessment by multiple gemologists.
Final Word on Whiteflash Review
If you prioritize premium diamonds with superior cut and all the 4Cs, Whiteflash should be your go-to destination. They specialize in offering top-notch, high-quality diamonds that truly stand out.
However, if you are interested in exploring a broader range of options that also include brilliant, sparkling diamonds without necessarily focusing on the highest premium grades, you might want to consider other vendors like James Allen, which offer a diverse selection catering to various tastes and budgets.
Still not sure where to buy your diamond?
---
We always recommend shopping diamonds online and created a Full guide to shop diamonds like a Pro.
Among online retailers, here are our favorite stores click their logo to visit store
James Allen:

Our favorite online store, best diamond imaging technology available today, comes with the largest collection with more than half a million loose diamonds.






Blue Nile:

Widest collection of loose diamonds of all sizes, great imaging technology for most of their inventory (hundreds of thousands of diamonds), great customer support.