What does an oval ring say about you? Innovative, unique, sophisticated, and powerful. Opting for an oval-cut diamond ring for your wedding or engagement is a great choice, especially if you are seeking to buy a ring that gives your fingers a thinner and taller look.
Are you bombarded with the numerous oval-cut engagement rings available in the market? Worry not and check out our list of the best oval-cut engagement rings in 2023 in addition to the most important factors that buyers should look for when purchasing an oval-cut ring.
What Is an Oval Cut Engagement Ring?
An oval-cut diamond is a stretched-out version of the round cut and it has great brilliance along with finger coverage. 
Oval-cut engagement rings are very trendy and never go out of style. In fact, on the list of the trendiest diamond cuts, ovals come only second to round-cut diamonds, making them a great choice for many couples and brides searching for the perfect cut for their engagement ring.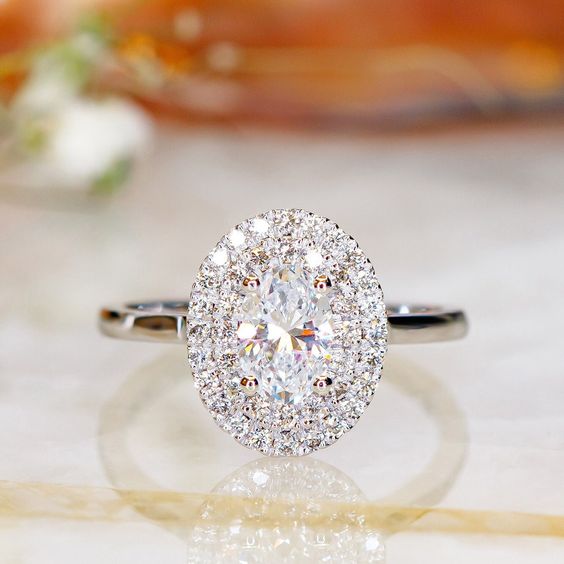 Oval-cut diamonds are available in a huge number of engagement rings, varying in size, color, setting, brilliance, clarity, and width. Also, if you are wondering: do oval-cut rings sparkle? Oval-cut diamonds sparkle marvelously under sunlight thanks to their elongated facets that vary from one stone to another. 
It is not easy choosing an oval-cut engagement ring because there are factors that you need to keep in mind when shopping for a new oval diamond ring. 
Factors to Judge an Oval Cut Diamond by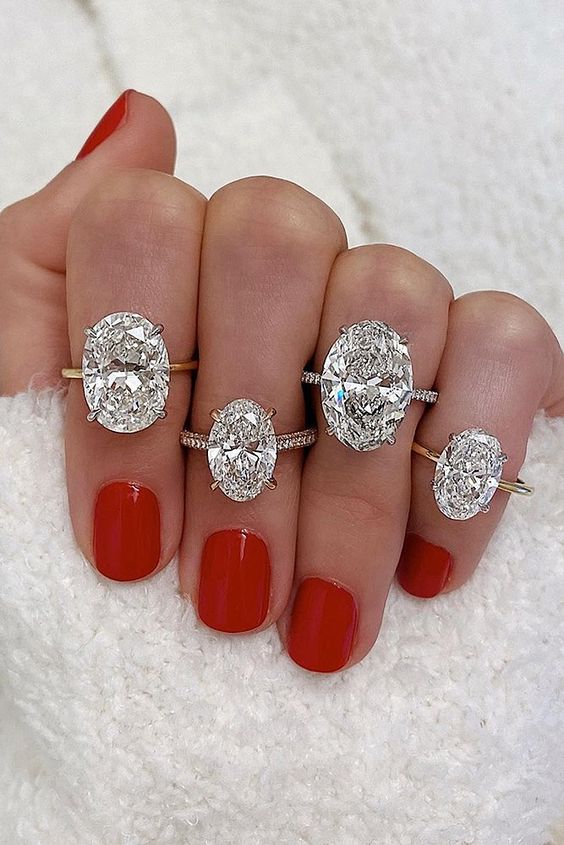 How to choose the best oval-cut diamond ring? There are several factors to examine oval cut engagement rings: 
Finger coverage

: The longer the oval, the greater the finger coverage it gives which beautifies the finger and reflects a classier look. 

Angles

: Avoid oval diamond rings with pointy and sharp edges; choose an oval cut that is perfectly round and smooth from the sides. 

Length to width ratio

: Divide the length of an oval diamond by its width to get the ratio, however, no ratio is perfect. Choose the oval that has a lengthy coverage over the wide coverage. 

Color: Ovals tend to show a yellowish color a little more than round, picking a G color grade will be a safe choice to get a diamond without a yellowish color, unless you are okay with it. 
Clarity: Examine the oval-cut diamond closely to make sure it has minimal inclusions. 
Bow tie effect: Ovals tend to reflect a bowtie shadow in the middle when put under direct light, showing a black bowtie in the center. Try to avoid this effect, but if you couldn't, then it's fine because most ovals have the bow tie (sometimes written bowtie) effect due to the cut itself, here is an example of an oval diamond with a bow tie: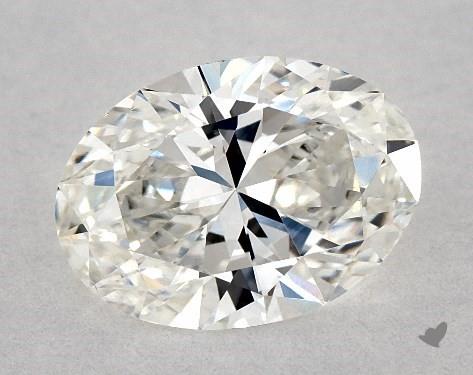 Oval vs Round Diamond Cuts
Before comparing oval vs round diamonds, you should know that these two cuts are the most classic cuts and diamond shapes. A round-cut diamond is traditional and classic while an oval-cut diamond is classic and unique. 
In terms of brilliance (sparkle), the round-cut diamond is the most brilliant cut, and this makes it desirable for many couples and brides. Even though the oval cut possesses great brilliance and sparkle, it comes second in comparison with the round cut.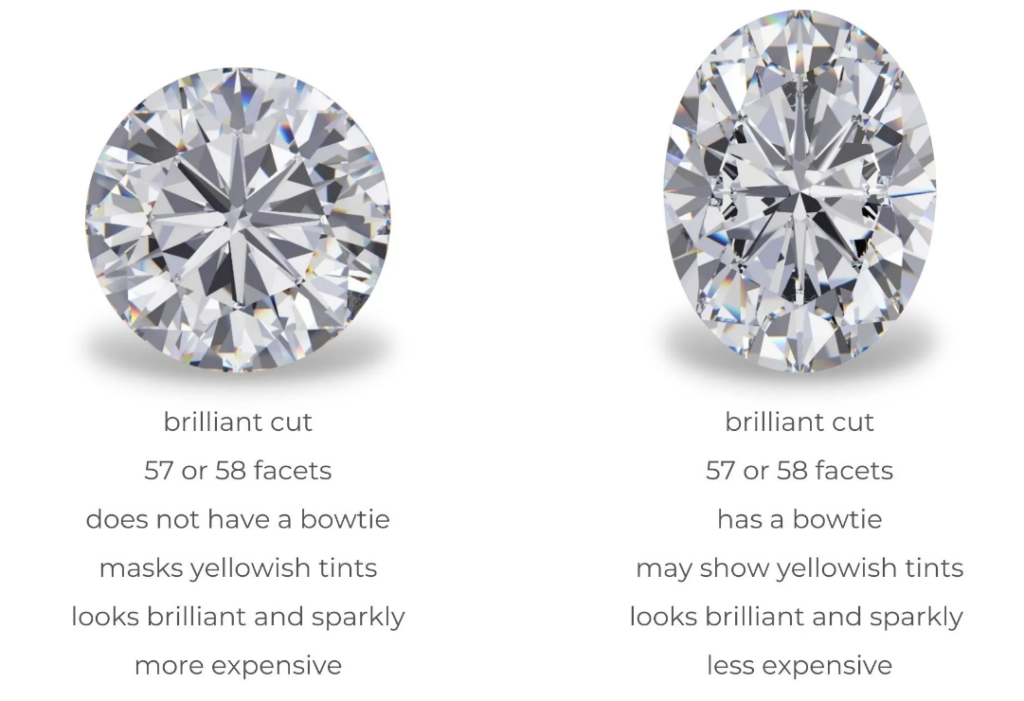 What about color? Well, round cuts don't give a yellowish effect with most color grades whereas oval cuts tend to reflect more of a yellowish color in grades like the I color. 
When it comes to clarity; ovals are capable of hiding inclusions or imperfections to a certain extent while rounds could show some inclusions depending on the diamond itself.
Which is more popular? Rounds or ovals? Without a doubt, round-cut diamonds are more popular among couples than oval-cut diamonds.
Regarding price, round cuts and oval cuts with the same qualities have different price ranges; a round-cut diamond costs more than an oval-cut one.
Where to Buy Oval Cut Engagement Rings?
You can find oval cut diamonds & engagement rings at almost any retailor, since we mentioned it's one of the most popular diamond cuts (shapes).
From our experience, we recommend buying oval-cut engagement rings from Blue Nile, James Allen, and Ritani.
These stores offer a wide selection of oval rings, in addition to services like creating customizable rings. 
Which Styles Suit Oval Cut Rings?
Oval cut engagement rings come in different styles:
Oval Shape Prices: Are Oval-cut Diamonds More Expensive?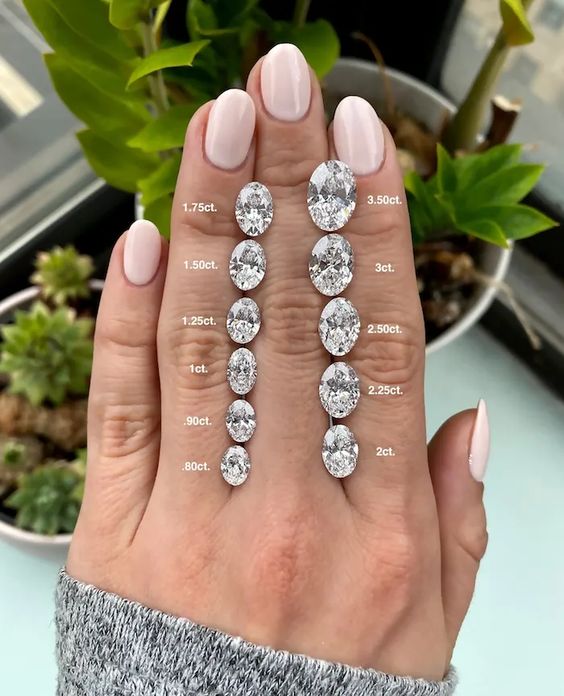 Generally, oval cut diamonds are less expensive than round cut diamonds due to demand and availability, but the price always goes down to the 4Cs. 
To give you an example, the price of a 1 carat oval-cut diamond with these specifications (G color, VS2 clarity, excellent cut) ranges between $4,038 – $6,900 dollars on Blue Nile while the price of 2 carat oval cut diamond with the same specifications ranges between $22,971 – $28,472 dollars. 
Oval Cut Engagement Rings to Choose From 
Enjoy checking out some of the most gorgeous and breathtaking oval-cut engagement rings on the market.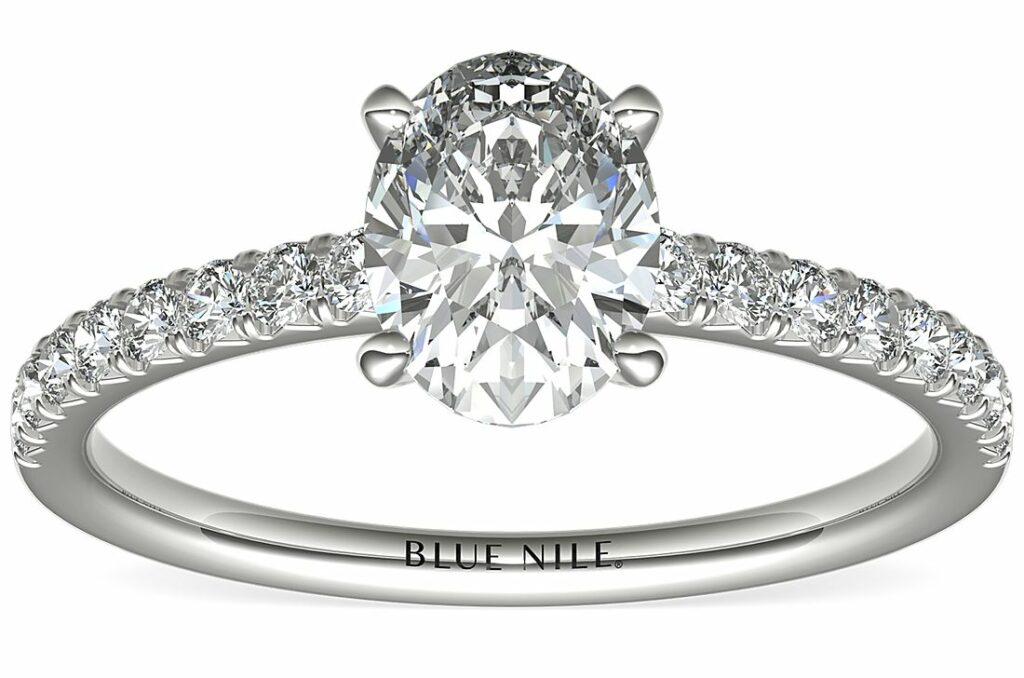 This 1-carat oval cut diamond ring has a beautiful diamond in the middle along with smaller diamonds on the band to maximize the brilliance and sparkle it reflects.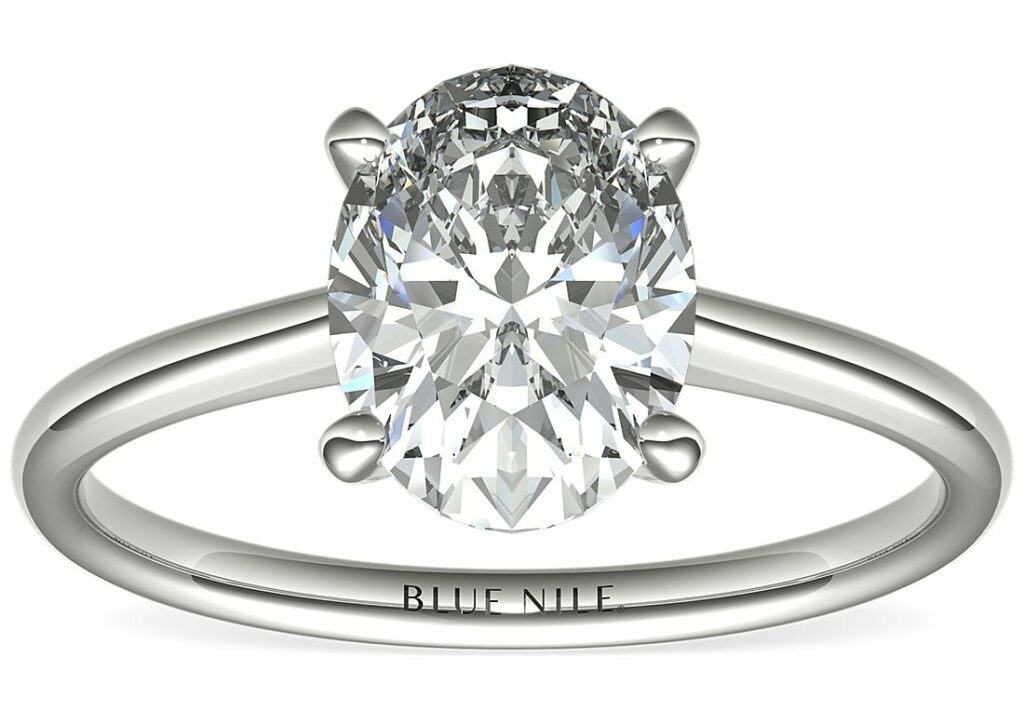 Getting a 2-carat oval cut diamond ring gives you greater finger coverage, making your finger appear longer and thinner than it is, so don't hesitate to check out the gorgeous petite solitaire ring with an oval cut from Blue Nile's engagement rings.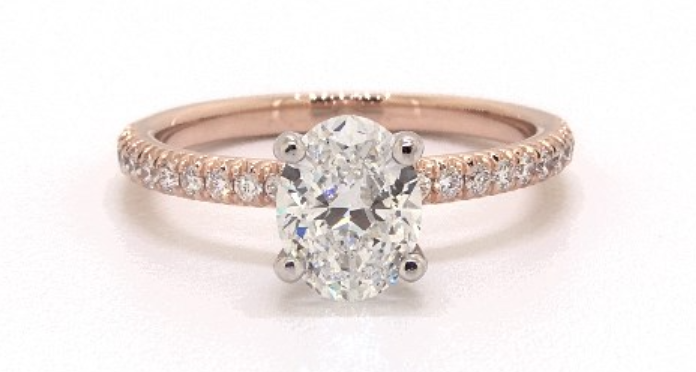 What sets this James Allen ring apart from other oval cut engagement rings is the attention to detail in the coherence between the diamond itself and the setting. As you can see, the petite diamonds on the band go perfectly with the oval-cut diamond in the middle.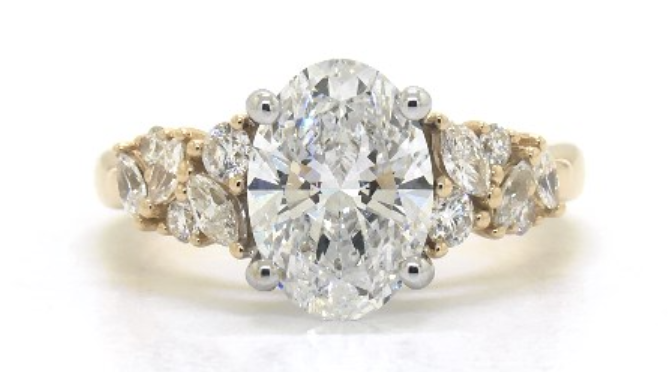 If you are wondering which styles suit oval cut rings then this oval cut diamond is a perfect example that ovals go with several colors and settings, such as the yellow gold setting or the rose gold setting.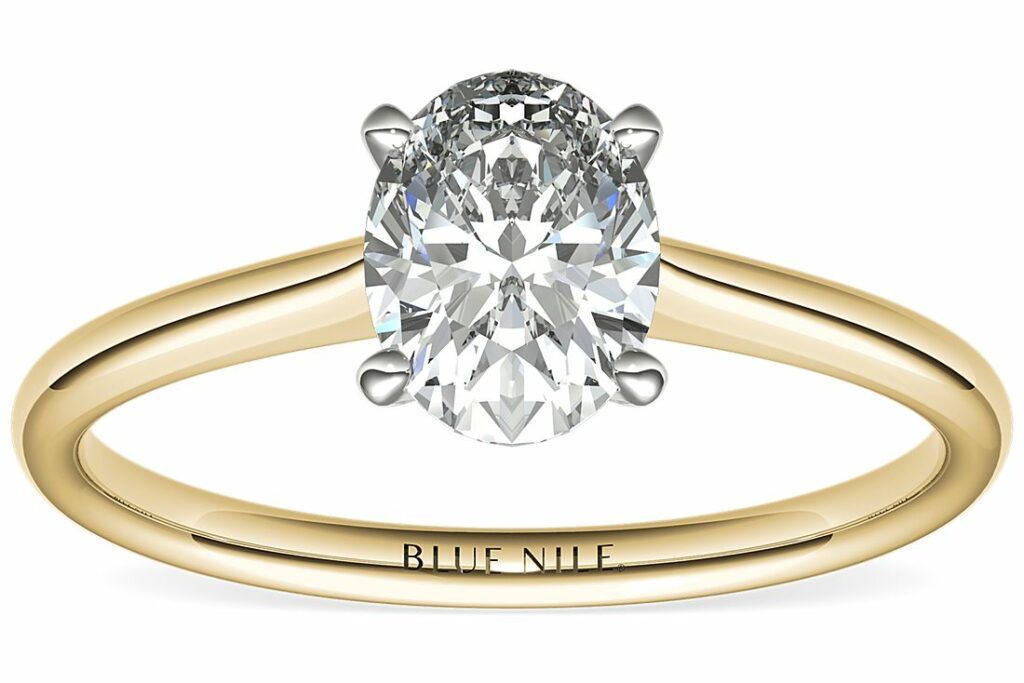 Oval engagement rings with thin bands are trending these days and this stunning petite solitaire in 18k yellow gold is a timeless classic that suits many brides. If you are a fan of gold settings, then we highly encourage you to take a look at Blue Nile's oval-cut engagement rings with gold bands.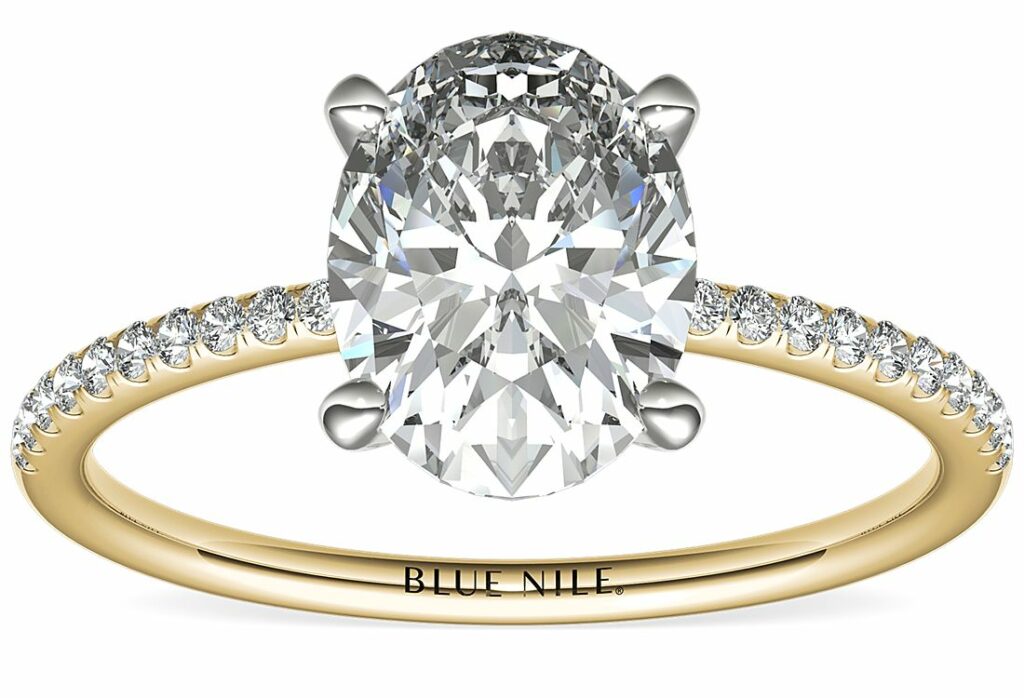 Speaking of gold bands and settings, you can check oval engagement rings with thin bands and diamonds on the side to increase the ring's sophistication, glamour, and brilliance, just like this eye-catching 2 carat oval diamond ring by Blue Nile.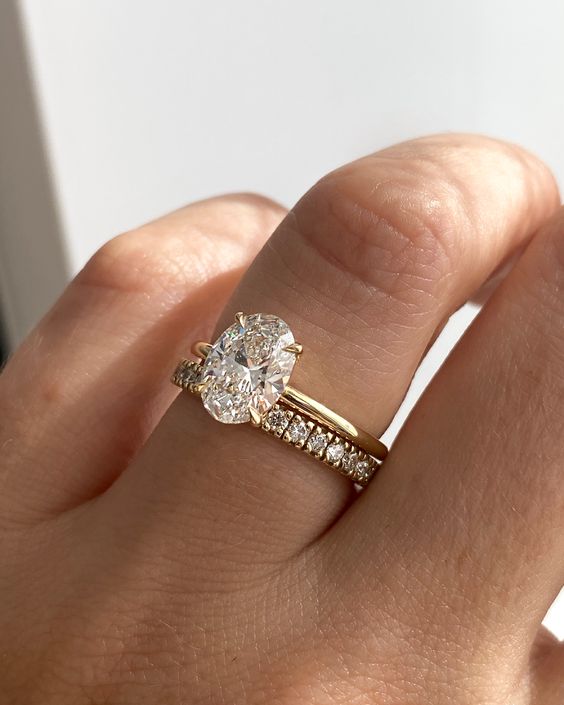 Oval cuts definitely go with gold bands but do you know what's better? It's getting a 2 carat oval diamond ring with a gold band and matching it with a sparkly wedding band. James Allen's oval cut engagement rings offer you numerous choices to get inspired by or choose one for your love story.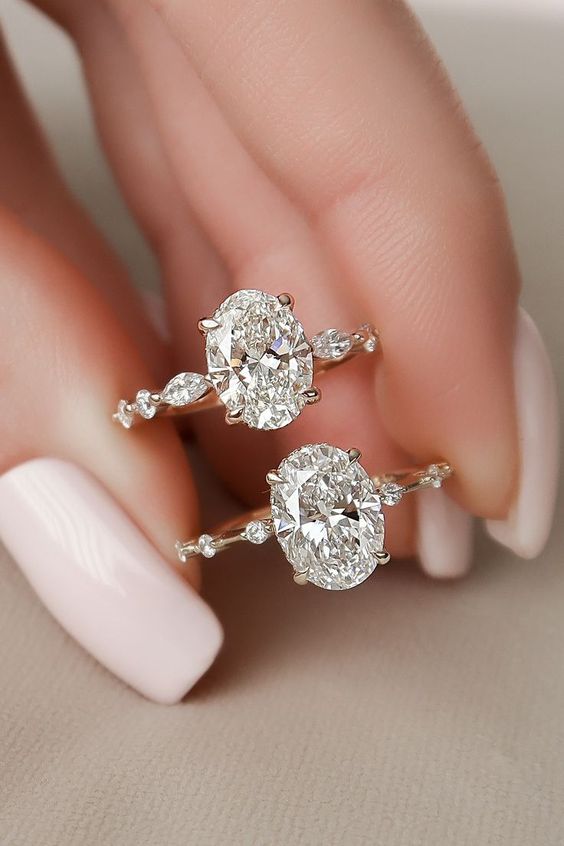 You can't deny that this marquise shape diamond band goes perfectly with the oval cut diamond in the center, proving that ovals can be purchased in different shapes depending on your preference for elegance and sharpness.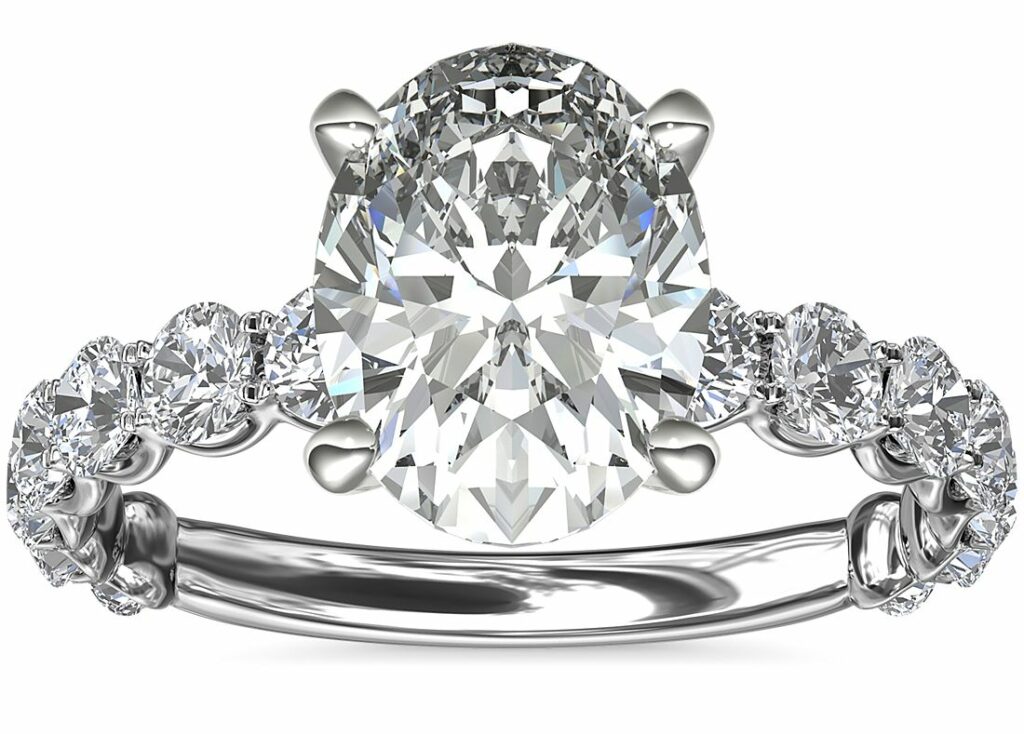 Why settle for a 2-carat oval diamond ring when you can get a 2.5-carat ring? This outstanding Selene diamond ring gives you the sparkle you are looking for along with finger coverage lengthwise, granting you a masterpiece that isn't easily ignored.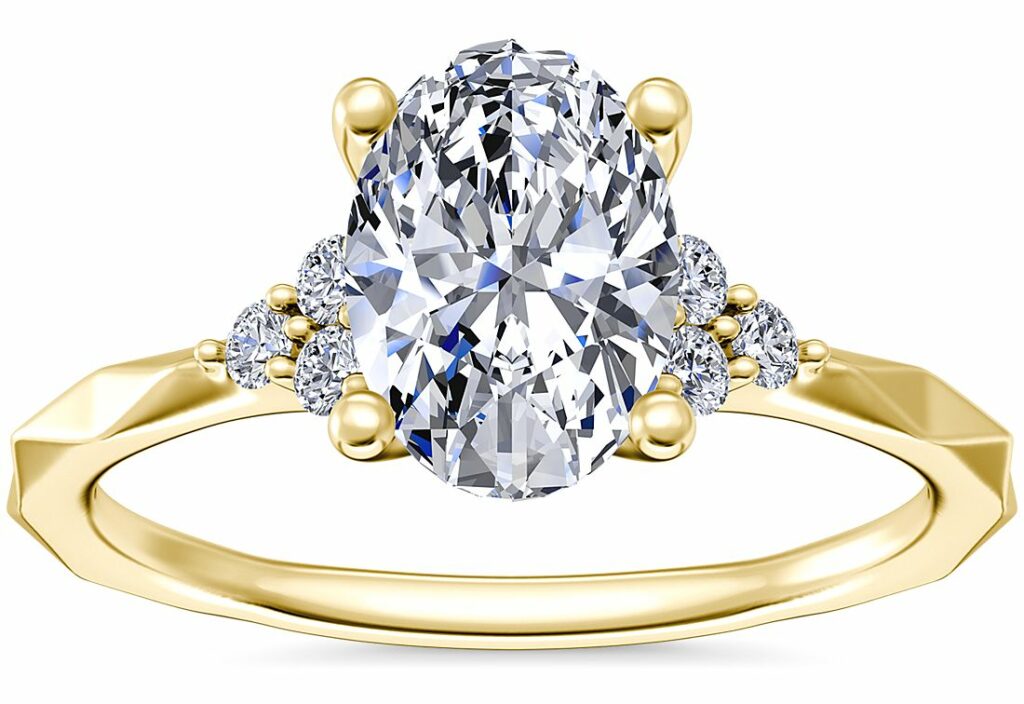 When choosing from oval cut engagement rings make sure that the band matches the diamond and can carry it, as some 3-5 carat oval diamonds require a thick band, unlike 1-2 carat oval diamonds which are matched with thinner bands. 
This Facet Shank oval cut engagement ring is beautifully matched with a gold band that lifts the gorgeous centerpiece with elegance.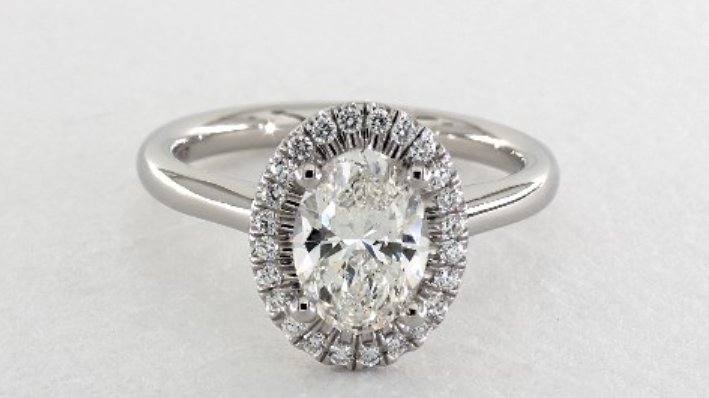 For an oval cut diamond ring with a halo style, this James Allen ring fits various fingers whether they are naturally long or short.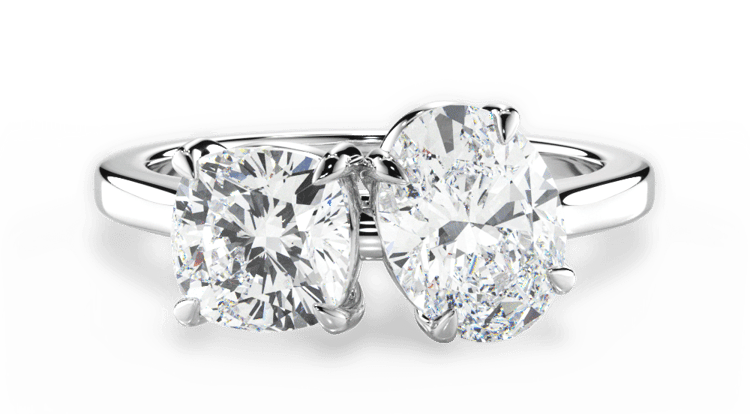 This ring is very unconventional and adheres to personal taste, so if you're the kind of person who wants a two-stone ring, then check out this gorgeous two-stone oval and cushion diamond ring from Ritani's oval cut engagement rings.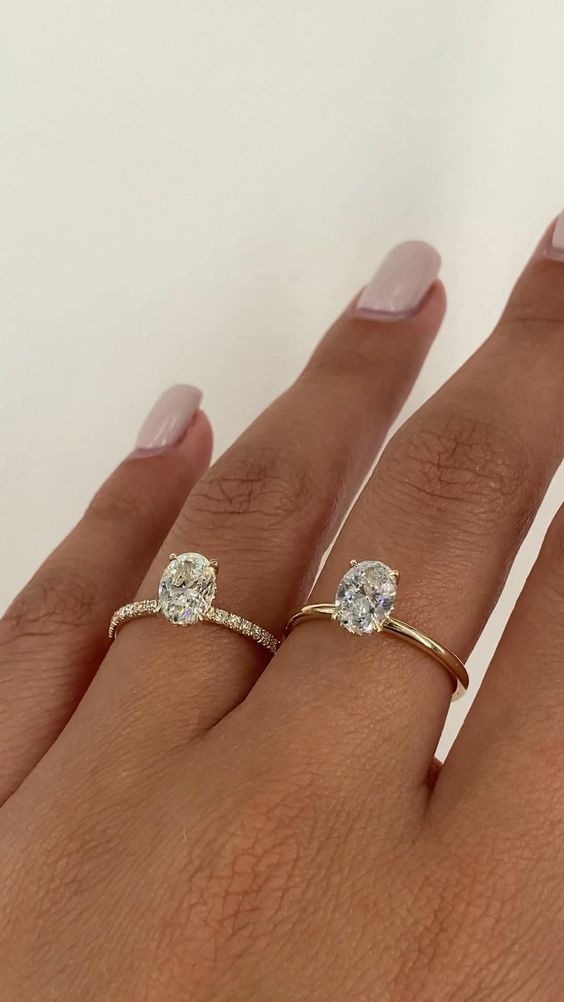 This solitaire ring comes with a thin yellow gold band and is available with or without diamonds on the sides depending on your preference.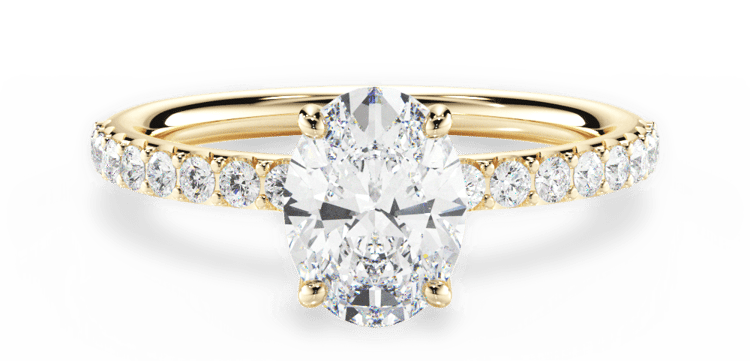 Isn't this oval cut engagement ring gorgeous? We can't keep our eyes off this Ritani ring and we bet it will look beautiful on your finger.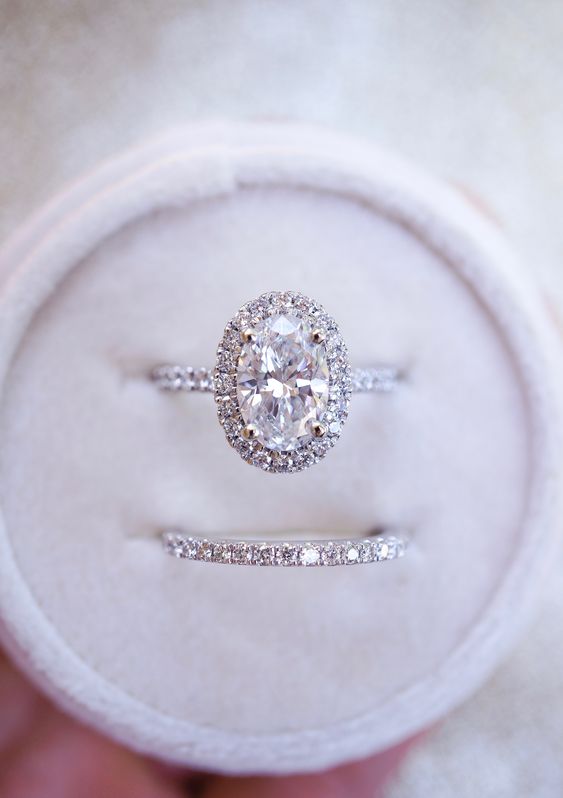 When pave and halo styles are combined together in a 2 or 1 carat oval-cut diamond ring, the results are always stunning.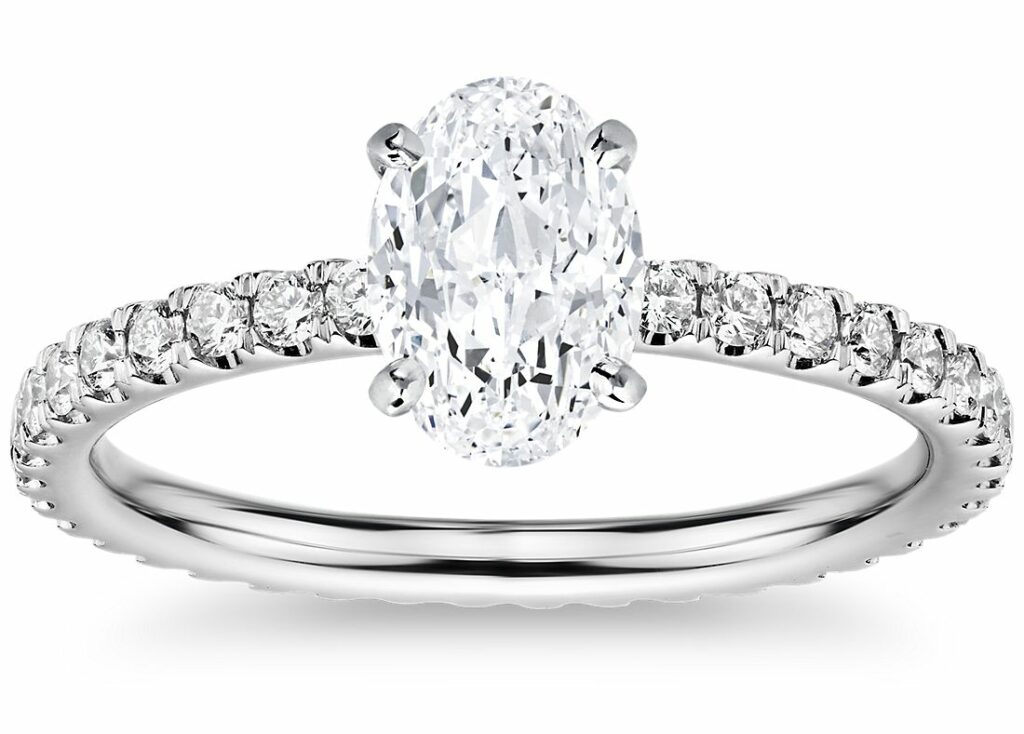 Platinum bands are as remarkable as yellow bands and sometimes even more remarkable, just like this beautiful Blue Nile diamond ring.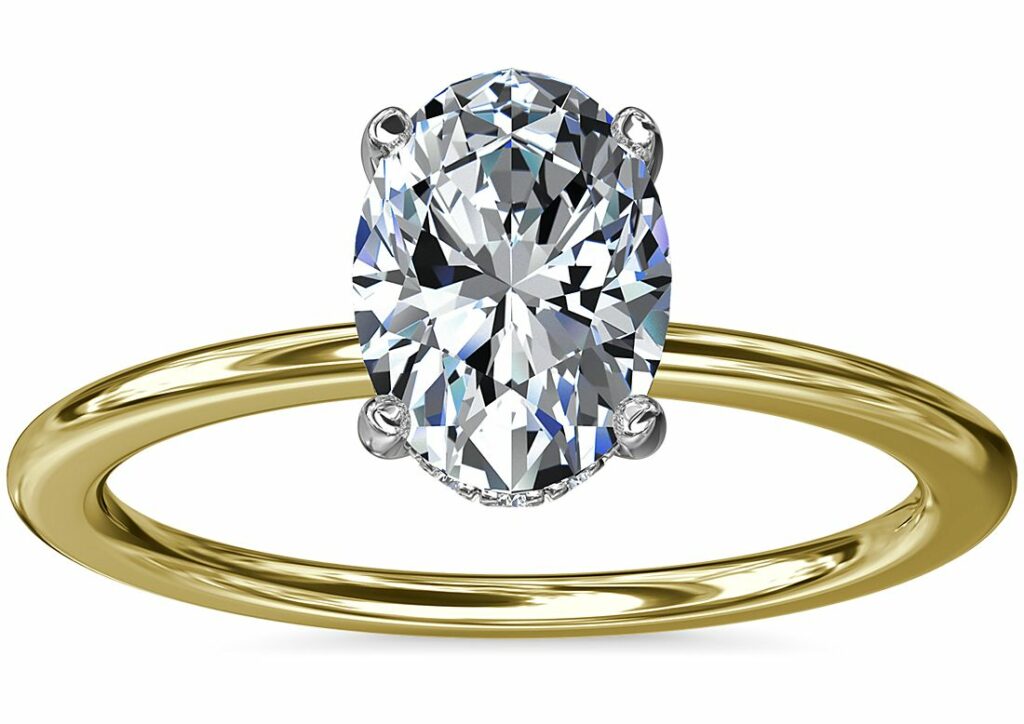 We finish our list of oval cut engagement rings with one of Blue Nile's most sought-after rings, the solitaire hidden halo diamond ring with a yellow band; it's classic, brilliant, and timeless. 
Final Word
An oval engagement ring represents innovation and sophistication. If you're overwhelmed by the many options on the market, we hope this guide narrowed that down.
Oval-cut diamonds, elongated versions of the round cut, offer great brilliance and cover more of the finger. They're popular and timeless, available in numerous engagement ring styles.
When selecting an oval-cut ring, consider factors like the diamond's length-to-width ratio, color, clarity, and the ring's finger coverage and edge angles. Oval cuts might exhibit a 'bowtie' shadow effect under direct light.
Compared to round diamonds, oval cuts have nearly similar brilliance and can hide minor inclusions. However, they might reflect a yellowish color in certain grades and are generally less expensive.
Retailers like Blue Nile, James Allen, and Ritani offer wide selections and customization options. Oval rings come in various styles and price ranges depending on the 4Cs: Cut, Color, Clarity, and Carat weight.
Still not sure where to buy your diamond?
---
We always recommend shopping diamonds online and created a Full guide to shop diamonds like a Pro.
Among online retailers, here are our favorite stores click their logo to visit store
James Allen:

Our favorite online store, best diamond imaging technology available today, comes with the largest collection with more than half a million loose diamonds.






Blue Nile:

Widest collection of loose diamonds of all sizes, great imaging technology for most of their inventory (hundreds of thousands of diamonds), great customer support.